Get your Oscars on in New York City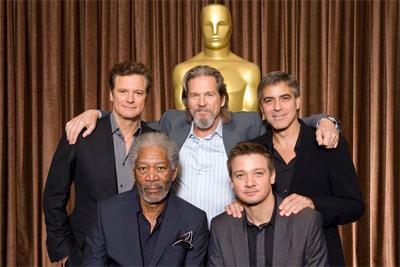 [Pictured, clockwise from top center: Obidiah Stane, Bruce Wayne, (possibly) Clint Barton, Lucius Fox, and Harry from Mama Mia. Yes, four out of five of this year's best actor nominees have been or are rumored to be main characters in comic book movies.]
You don't need to be in Los Angeles to set your eyes on the most important little guy in Hollywood. Starting this Thursday, the Time Warner Center at Columbus Circle in New York City will be hosting an Oscars exhibit through Oscar Sunday, March 7.
The exhibit will feature the actual Oscar statuette to be awarded to the Best Actress winner at the Oscars, plus several other Oscars. The miniature Oscar Judy Garland got for her performance as a juvenile in The Wizard of Oz will be there, as will a Science and Technology Achievement Award of Merit awarded to Eastman Kodak. Several incomplete Oscars will also be displayed, showing how the statuette is crafted over several stages.
You'll be able to hold an actual Oscar and get your picture taken. Oh, and the exhibit is free. What are you waiting for? Oscar night is a-coming!
— Will Greenwald
LATEST VIDEO
WHERE TECHNOLOGY BECOMES ENTERTAINMENT