The Gadget Girl: Acoustic Research's Home Décor Line Lets You Hide Your Speakers in Plain Sight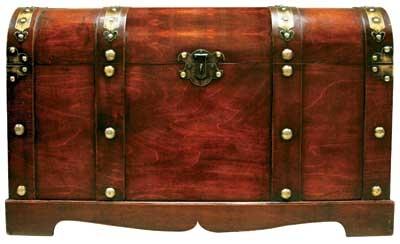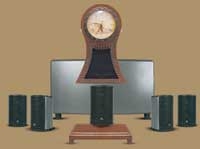 Getting a new TV can be both a blessing and a curse. It can mean redecorating a room or at the very least figuring out what kind of speakers will best complement it. You guys tend to want big tower speakers that can overwhelm a space while us girls want something that's, uh, more attractive. Believe me, I'm all about surround sound and powerful speakers, but I don't want them cluttering up a room. Audiovox's Acoustic Research may have found the answer. Its new Home Décor line offers a speaker system that combines with decorative covers that disguise the speakers and subs. The entire 5.1-channel system ($899) - which includes five satellite speakers and a 10-inch ported subwoofer with a built-in 175-watt digital amplifier - can be camouflaged with an interesting variety of covers ($40 to $80), including mantel clocks (shown at left), candle holders, faux books, floor-stand baskets, and wall sconces. I especially liked the vintage trunks that hold the subs (shown above, $150 to $200).
Finally, the rock speaker has evolved.
Read last month's Gadget Girl Back to Homepage What's New on S&V
LATEST VIDEO
WHERE TECHNOLOGY BECOMES ENTERTAINMENT