Gadget Gary: Hitachi DZHS500A DVD/HDD Camcorder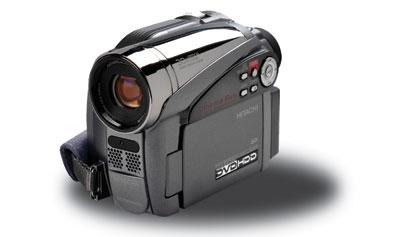 I remember the first video camera I bought back in the '80s. It was about 2 feet long, I had to perch it on my shoulder, and it shot grainy VHS footage. Suffice it to say that consumer camcorders have come a very long way since then. The HITACHI DZHS500A DVD/HDD hybrid camcorder ($600, hitachi.us/tv) is an amazing little unit, even in the current flooded market.
It saves up to 23 hours of footage - more than I could ever shoot at a kids' soccer game or on vacation - via a built-in 30-gigabyte hard drive, or you can shoot direct to DVD. But to me, the best feature is that you can shoot to the hard drive, save it, edit it in the camera, and then transfer it to DVD.
I tested out the Hitachi by filming one of my son's baseball games. Every time I turned the cam on to shoot and then hit pause, it saved that scene as a separate file. When the game was over, I had about 25 different scenes to edit. I was able to delete five of them right off the bat because they weren't good shots. (My bad.) Then I burned the rest of them to DVD right on the camera itself.
One problem: I could burn DVDs only when the Hitachi's AC adapter was attached, even though the battery was fully charged; this would make it difficult to burn DVDs on the fly. And when I played the DVD on my 58-inch Panasonic plasma HDTV, it lacked the overall sharpness and crispness I would've preferred. But all things considered, this is a really great, versatile camcorder. I highly recommend it.
Gary Dell'Abate is the executive producer of The Howard Stern Show, and he absolutely loves it whenever you call him Baba Booey or Mac Hine.
LATEST VIDEO