Front Projectors Hit New Lows -- and Highs, Part II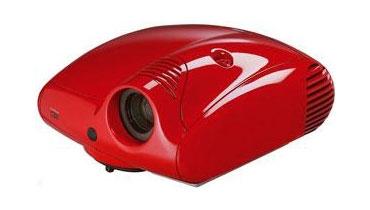 Given the wide disparity of price points we're seeing at CEDIA, custom installers are hoping to maintain their steady stream of upscale customers while embracing a category relatively unknown just a few years ago: first-time projector owners with considerably lower budgets.
That's why in just a short stroll down a few of the convention center's aisles you can check out Epson's new sub-$2,000 1080p PowerLite Home Cinema 6100 - geared toward those who wouldn't have even considered a front-projection system even two years ago - and then be awed by the majesty of Meridian's 810 Reference video system, with four times the resolution of the best current 1080p projectors. Fortunately for wage-earners like me, there was also a lot of cool stuff plunked down in the middle of those two extremes.
Epson: Take That, Sanyo As we've previously noted, days before the show, Sanyo announced a new sub-$2,000 projector, the PLV-Z700. Then, on the first day of the show, Epson responded, serving up the PowerLite Home Cinema 6100, a 3LCD 1080p model with a price tag a buck shy of $2,000. This 3LCD model uses the latest-generation D7 chip, and boasts a claimed contrast ratio of 18,000:1, a fast dynamic iris system, and an updated Epson-design lamp system for improved brightness. An improved cooling system has lowered fan noise to 22 dBa, the company says.
For those with a bit more cash, Epson introduced two other 1080p LCD models: the step-up PowerLite Pro Cinema 7100 - a sub-$3,000 projector that allows ISF calibration - and the PowerLite Pro Cinema 7500 UB, a $4,500 LCD model with improved contrast and additional features, including HQV Reon-VX video processing and anamorphic lens compatibility, plus a spare bulb, ceiling mount, and longer 3-year warranty. The 6100 and 7100 hit in November, while the 7500 UB wants the anticipation to build until December.
Two Gems in Mitsubishi Diamond Series Mitsubishi bowed two new projectors, the HC6500 and the HC7000, both 1080p 3LCD models with stylish designs and whisper-quite operations (17 dBa in their low modes). The HC7000, priced at $3,995, is a flagship model with a claimed 70,000:1 contrast ratio, while the $2,995 HC6000 boasts a claimed contrast of 15,000:1. Common features include a fast auto iris, and a two-mode support for anamorphic lenses, which lets you position an anamorphic lens in front of the projector permanently without need of a costly lens sled. You simple select the appropriate mode for either 2.35:1 or 16:9 aspect ratios. In addition, both models include Silicon Optix's HQV Reon-VX video processing chip.
For those Richie Riches with big, open great rooms who can't part with their breathtaking views, Mitsubishi offers the HD8000, a $14,995 1080p 3LCD model with exceptional brightness - 5,000 lumens. The projectors use three 1.1-inch 3LCD inorganic panels, comes with a DVI input equipped with a DVI-to-HDMI adapter, and offers RJ45 networking support.
JVC's Deck Holds Two Pairs JVC waited until the second day of the show to roll out its new projector line-up, which consists of four models - two in its Procision consumer line, two in its Reference pro series - that use its 0.7-inch LCoS-derived D-ILA technology and a wire-grid optical engine, which obviates the need for a dynamic iris (and therefore insanely inflated contrast specs).
All four models - the DLA-HD350 and DLA-HD750, and DLA-RS10 and DLA-RS20 - include Silicon Optix's Reon-VX video processor, 2x motorized zooms lenses, and customized onscreen gamma controls. The DLA-HD750 and DLA-RS20 feature pre-calibrated THX Movie Mode settings optimized for DVDs, Blu-ray discs, or broadcast TV, and include color management that interpolates colors individually by R, G, B, C, Y, or M, in three separate axis of color phase, chroma saturation, and brightness.
All models will be available in November. The DLA-HD350 and DLA-RS10 will be priced just shy of $6,000, while the DLA-HD750 and RS20 will cost just under $8,000. The Procession models will be available in either glossy piano black or glossy white, while the Reference model comes in that Henry Ford choice of colors, black.
And once again, just to blow our minds and make us feel miserable about what we've already purchased, JVC demo'd its 10-megapixel "4K2K" quad-HD projector, the DLA-SH4K. The projector, priced just less than many small Caribbean islands, is designed for commercial applications, or maybe Mark Cuban.
Sim2: Better Than Blu-ray As if Blu-ray didn't have enough problems with people always sniping that downloads are going to render it obsolete, high-end projector company Sim2 teamed up with upstart - oops, I mean start-up - Entertainment Experience to offer what is essentially a PC-based HD entertainment system married to a projector.
Apparently, the deal calls for Sim2 to exclusively offer a bundled system that packages Entertainment Experience's "Better Than Blu" Digital Entertainment Center system - a highly caffeinated H-P mediacentric PC that supposedly outputs data at three times the rate of Blu-ray movies - along with a Sim2 C3X 1080 home-theater projector. The first packages are expected to be available in January, and while pricing hasn't yet been disclosed, I doubt Sanyo and Epson will have much to worry about. Based on literature we saw, the system's video processing is calibrated to the new Hollywood Digital Cinema Initiative (DCI) color standards. Software will be encoded in a number of codecs including VC1, MPEG4, and H.264. Advanced audio formats will also be supported, but weren't specified.
Planar Systems is a Triple Threat Planar was at the show demonstrating its previously announced, first-ever 3-chip DLP projector, called the Viper, prompting us to immediately ask, "What's the ASP for the Viper?" If you don't know that ASP stands for "average selling price," then this isn't likely to be as funny as we thought.
Anyway, the Viper is a very expensive ($15,495) 720p (1,280 by 720) native HD model that boasts 2,000 lumens of brightness and a 10,000:1 contrast ratio. The company says the projector was designed to produce exceptional black levels and very accurate colors, and since it's a three-chip design, there is no color wheel and is therefore free from rainbow effect artifacts. Five lens options are available, and the unit itself has a sexy, curvy design and a glossy piano-black finish.
Meridian: If You Need to Ask the Price . . . For about the price of a mansion in Buffalo, you can experience the wonder and grandeur of what is the Meridian 810 Reference Video System. Although you might think that, given its $185,000 price, the system includes a chef, a server, and a masseuse who continuously kneads your feet during movies, the 810 system actually has only two components: the 10-megapixel 810 D-ILA-based Reference Video Projector (I guess we know now where they got it), and the 810 Reference Video Scaler - which boats Marvell's Qdeo processor) that can handle everything from lowly 480i to Full HD signals and pump it up to its native 10-megapixel resolution. Of course, considering how (according to Meridian) it takes a trained staff more than four days to calibrate each projector . . . well, that might explain some of the price.
Undeterred by modesty, Meridian calls it "the most realistic home theater performance in the world." And really, who are we to disagree? The projector sports a resolution (4096 x 2400) four times better than anything we've ever had, and its PKI Xenon lamp can kick out 4000 lumens, enough to permanently blind anyone silly enough to look directly into its glare. (Recalling how expensive Sony's Xenon lamp was to replace, I imagine the bulb is about the same price as many 1080p projectors).
Four different packages will be available - with lens systems with differing throws - and you can't buy either of the components separately. Start saving: The 810 system will be available by year's end.
LATEST VIDEO