The first 3D Blu-ray Disc hits June 1... in Germany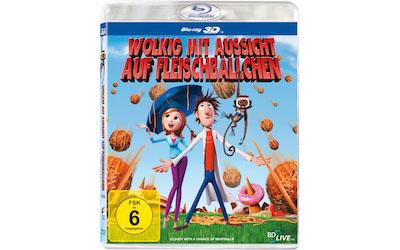 Sony Pictures is releasing its first commercially available 3D Blu-ray Disc June 1, and it's not coming to America first. Instead, the Blu-ray Disc release of Cloudy With a Chance of Meatballs (or Wolkig Mit Aussicht auf Fleishcballchen, which sounds much more aggressive) is hitting Germany before anywhere else.
According to Area DVD (translated link), the film's 3D version will hit concurrently with the 2D version at the beginning of June. The 3D edition will be playable in 2D, but at 29 Euros (about $40 American) costs 33% more than the 2D version.
The film will include 3D previews of Open Season and Monster House, signaling that those movies are gearing up for a 3D Blu-ray Disc release as well, even though they were release 3 years before Cloudy With a Chance of Meatballs. This 3D Blu-Ray release will probably hit America shortly after, but Germany is the first country to officially get a release date.
— Will Greenwald
[Source: Area DVD via Engadget HD]
LATEST VIDEO
WHERE TECHNOLOGY BECOMES ENTERTAINMENT