FiOS TV's Latest Feat
Just when you thought FiOS TV couldn't get any better, Verizon ups the ante. Verizon's launched FiOS TV Central, a website that FiOS customers can access from any computer. Once logged in, they can view their local TV listings, VOD and pay-per-view options. But wait, there's more!


Coming soon, FiOS TV customers will be able to program their DVRs to record shows, from any location with an Internet connection. Next time you're sitting in Seoul and realize that you forgot about the premiere of The Mole, you can just log on and program away.
Other features of the new FiOS TV Central website include VOD trailers, lists of the top-watched shows and titles. A 14-day program guide with filters to only show what you want to see will also be available online.
In the future, in addition to just selecting a program for your DVR to record, you'll also be able to set up and modify recordings, and even order VOD programs remotely.
Currently, FiOS TV has more than 400 digital channels, but only 30 in HD. The VOD library contains a large number of HD titles. According to Verizon, there are over 10,000 on-demand titles, with 70% of them being free.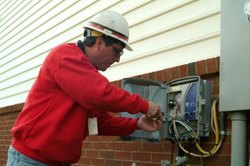 Verizon's FiOS TV is a technology to watch, and with added features such as FiOS TV Central, it's getting more and more interesting every day.-Leslie Shapiro
LATEST VIDEO