Face Lift for Katie Couric's CBS Set
As the country gets ready to pull the analog plug, CBS is finally putting the finishing touches on its new HD sets and control room. The CBS Evening News with Katie Couric will debut in HD later this month, and just in time, the 1080i control room is ready for the launch.
The multimillion-dollar construction project includes graphics and editing suites along with the 20-year-old control room.
Keep reading for more details of the overhaul.
CBS has had the HD cameras for the Evening News set for years - they've just been waiting for the upgrades to the control room to be finished.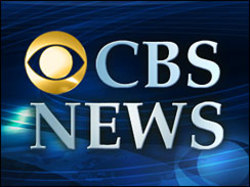 In a report in Broadcasting & Cable, CBS News president Sean McManus concedes that CBS News hasn't been as aggressive as he would have liked in rolling out HD but added that the network is making up for lost time. He said 60 Minutes will go HD in September and 48 Hours and CBS Sunday Morning will make the move in 2009. The Early Show could go to HD later this year or in 2010, depending on whether it renews its lease of studio space at the General Motors Building.
McManus, also president of CBS Sports, adds that taking news to HD has been a priority for him since he was put in charge of the news division in 2005. He gets complaints from viewers who, after watching a National Football League game in HD, keep 60 Minutes on and find the difference in picture quality "jarring."
"It's worse by omission," McManus said. "If someone is expecting HD and they don't get it, the contrast is pretty stark."
Also from Broadcasting & Cable, "This is our first monitor wall with all flat-screen devices [Panasonic plasma displays] and no CRTs," said John Ferder, director of studio and postproduction-systems engineering for CBS Broadcasting.
All we can say is, Katie better be ready for her HD closeup. Maybe she's born with it, or maybe it's Maybelline! -Leslie Shapiro
Images from CBS.com
LATEST VIDEO