DVDs: TV Comedies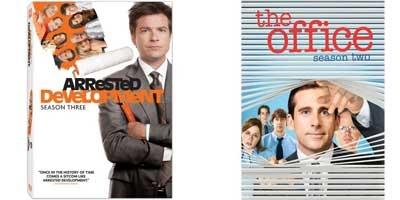 The Office Season 2 Universal
---
Series •••• Picture/Sound •••½ Extras ••••
Arrested Development Season 3 20th Century Fox
---
Series •••• Picture/Sound •••• Extras •••½
The Office
, winner of the 2006 Emmy for Best Comedy, finally emerges from the shadow of its brilliant British predecessor in Season 2. Colors accu-rately mirror the show's locale, with the titular workplace bathed in a tad-too-bright fluorescent light and the walls in bumbling boss Michael Scott's office an appropriately dull green. The 10 com-mentaries are fun free-form exchanges between creators and actors, with cast member Jenna Fischer usually sharing the most informative anecdotes amidst the good-natured chaos.
Arrested Development, winner of the 2004 Emmy for Best Comedy, crowns its truncated, 13-episode final season by being too good, ultimately, for its own good. All of the snark and smarm is shot on sets that gamely reflect the Bluth family wealth (blue-gray hues archly framing the chichi corporate boardroom).
Many scenes are buttressed by David Schwartz's clever original score in surround. The three cast commentaries are absolute screams, led by the show's ever-mischievous creator, Mitchell Hurwitz. But be prepared: Any attempt at a serious or enlightening anecdote is immediately - and fittingly - met with ridicule, derision, and cheeky humor. Both: letterboxed (1.78:1) and anamorphic widescreen. The Office: [NR] English, Dolby Digital 5.1; four dual-layer discs. Arrested Development: [TV-14] English, French, and Spanish, Dolby Surround; two dual-layer discs.
more of this month's reviews Back to Homepage What's New on S&V
LATEST VIDEO