DVDs: Reference Disc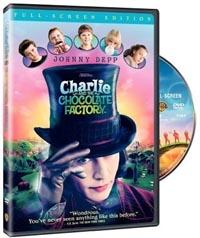 An edgy update, CHARLIE AND THE CHOCOLATE FACTORY (Warner; Movie •••½, Picture/Sound ••••, Extras ••••) takes several liberties with Roald Dahl's classic book, but it also manages to convey the story's dark humor. The true star here is director Tim Burton's visual style: the world outside Wonka's factory is shown as a surreally humdrum place, while the inside teems with confectionery landscapes and fantastic candy-making contraptions.
The picture on this two-disc set has excellent detail, even in the dark interior shots of Charlie's tumbledown home. (Despite this, there's an overall smoothness to the images that seems like intentional digital processing - something I saw in the theater.) Both the colorful factory sets and the Oompa Loompa costumes look deliciously vivid, while the actors' skin tones are perfectly natural - except for the pale purple-green-tinted complexion of Johnny Depp as Willie Wonka.
Another highlight is Danny Elfman's lively score. Scenes like the boat trip through the bowels of the factory are punctuated by timpani swells and braying horns. The deep bass and swirling surround effects in the Dolby Digital EX mix help create a sense of rubbery motion.
Extras take up a full second disc and include many interesting behind-the-scenes and special-effects documentaries as well as one on Dahl's life.
LATEST VIDEO