DVDs: Cracked Actors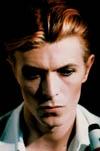 Nicolas Roeg's 1976 film THE MAN WHO FELL TO EARTH (The Criterion Collection; Movie •••½, Picture/Sound •••, Extras ••) is a poetic, visually resplendent work that gains resonance with repeat viewings. David Bowie (below) is the alien on a mission to save his dying race. And as the visitor slowly and tragically becomes subsumed into American society, Bowie takes the film to yet another level.
With 1980's BAD TIMING (The Criterion Collection; Movie •••½, Picture/Sound •••••, Extras •••), Roeg turned from alienation to obsession. Art Garfunkel plays an American psychiatrist in Vienna who can't let go of free spirit Theresa Russell. Roeg's bold, nonlinear editing reveals layers in both the characters and the narrative.
The 2.35:1 film-to-video transfers were supervised by Roeg, and the gorgeous images in both movies are razor-sharp and detailed. Landscapes in Earth seem like paintings in motion, and the stereo soundtrack is nicely delineated, even when a dozen TV sets are heard at once. The color contrasts in Bad Timing are also striking, and its mono sound is good with dialogue and music (Tom Waits, the Who, Billie Holiday), though the effects are at times indistinct. The commentary on Earth - by Roeg, Bowie, and actor Buck Henry - is rambling, but a second disc has interesting interviews and galleries, and the set includes a paperback copy of the original Walter Tevis novel. Bad Timing comes with deleted scenes and interviews with Russell and Roeg.
LATEST VIDEO