DVDs: Cops, Dicks, and Cons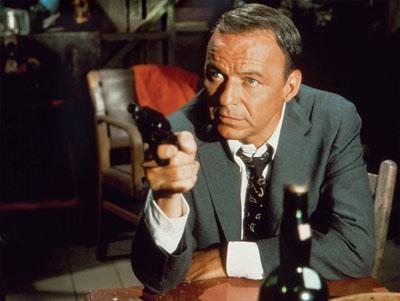 From the late 1960s through the early '70s, Americans saw the crumbling of the old morality, which gave way to the new twin blights of urban decay and bad hair. If this golden age of anti-heroes and the stars who played them is your bag - if you take your detectives tough, your streets mean, and your realism gritty - then you'll want to add some of these movies to your collection.
It was an age when Frank Sinatra was at his swingin'est, and in TONY ROME (1967) and LADY IN CEMENT (1968) he cruises as a private (ol' blue) eye, kicking along against the excesses of the counterculture. THE DETECTIVE (1968) allows him to show more of his chops by playing an anti-authoritarian New York City cop who, while tracking a killer, discovers that there's corruption in local government (!). (All three titles are from 20th Century Fox.)
If you double-cross Lee Marvin, you'll live (and die) to regret it, as his partners in crime learn in the dazzlingly nonlinear POINT BLANK (1967, Warner). Flesh trader Gene Hackman is also asking for Marvin-style pain in PRIME CUT (1972, Paramount) when he defies a Mob enforcer. Hackman and his moustache get star billing in NIGHT MOVES (1975, Warner), playing a grubby investigator sent to track down teenage free-love nymphet Melanie Griffith.
Burt Reynolds runs to his own beat in THE LONGEST YARD (1974, Paramount), kicking big-house ass and points. And he's the L.A. fuzz in HUSTLE (1975, Paramount), trying to cope with the degeneracy, disillusionment, and tackiness of the times. Oh, for the good old days.
LATEST VIDEO