DVDs: Bloody Sam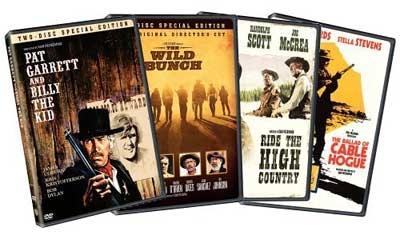 Like John Ford, Sam Peckinpah was a rambunctious, self-destructive, cinematic poet who idolized the American West. His work is generally discussed in terms of graphic violence, sadism, and perversion, and these aberrant forms of human behavior do appear throughout his work. Ultimately, though, Peckinpah's films are more about the power of friendship, loyalty, and love, and these emotions are vividly displayed in the marvelous six-disc Sam Peckinpah (Warner; Movies ••••, Picture/Sound ••••½, Extras •••). Here are betrayal and redemption in Ride the High Country (1962) and Pat Garrett and Billy the Kid (1973), an eternal bond of honor in The Wild Bunch (1969), and a sweet romance between a scamp and a whore in The Ballad of Cable Hogue (1970).
The main revelation of this collection is the two-disc Pat Garrett. Instead of the butchered 106-minute theatrical version, you get the 122-minute restoration from 1988 and a 115-minute version from last year that, assembled using Peckinpah's notes, is closer to the director's final vision. Both look spectacular, brimming with rich color and detailed images.
The Wild Bunch (also on two discs) and Cable Hogue provide standout examples of Technicolor's last stand. And the set's soundtracks are exemplary - all a crisp mono except the one for The Wild Bunch, which benefits from a thunderous 5.1-channel mix.
The Wild Bunch also takes the lead for interesting extras, including an informative commentary, two excellent feature-length documentaries and two half-hour ones, and outtakes. Sadly, the other three titles come with scholarly but snooze-inducing commentaries and lackluster featurettes.
LATEST VIDEO