DVD REVIEWS: Robots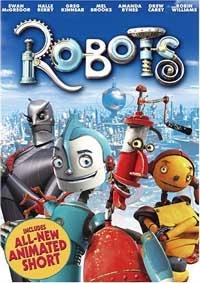 Blue Sky/20th Century Fox
---
Movie •••½ Picture/Sound •••• Extras ••••
Where Blue Sky's
Ice Age
only hinted at possibilities, the studio's
Robots
actually succeeds in giving Pixar a run for its money in computer animation. The intricate Art Deco design, inspired by that era's appliances and its visions of the future, is a constant wonder. And the characters are endearing and distinctly individual, with delightful voices from
Ewan McGregor
,
Robin Williams
,
Halle Berry
, and
Mel Brooks
. The orchestral score, which incorporates
Blue Man Group
's robot-inspired music, is spot-on, too. The digital-to-digital video transfer produces a picture so full of detail, you may wish to see it again just to catch every nut and bolt, and the sound mix immerses you in the movie's fantastic world. Extras include two commentaries, two animated shorts, deleted scenes, several making-of documentaries, interactive games, and an unusually good featurette that takes you from initial sketches to actors' voicings.
[PG] English, Dolby Digital and DTS 5.1; French and Spanish, Dolby Surround; letterboxed (1.85:1) and anamorphic widescreen; dual layer.
LATEST VIDEO
WHERE TECHNOLOGY BECOMES ENTERTAINMENT