DVD REVIEWS: Old News is Good News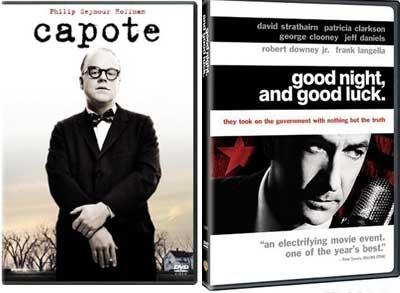 Capote Sony
---
Movie •••• Picture/Sound ••• Extras •••
Good Night, and Good Luck Warner
---
Movie •••• Picture/Sound •••• Extras •••½
When is a Hollywood biopic not a biopic at all? When it wisely focuses on a single tension-filled and revealing episode from a remarkable life. Doing so allows for a strong, story-driven movie while avoiding the predictable ebb and flow of cradle-to-grave film biography. That's an apt description of both of these movies, which deservedly drew many Oscar nominations. Each travels back in time almost 50 years to the glorious days of unencumbered American journalism, and each explores issues and ideas that still resonate deeply today.
Capote details Truman Capote's efforts to create a new literary form - the nonfiction novel - by illuminating a horrible and senseless true-life multiple murder with his book In Cold Blood. Philip Seymour Hoffman plays the effete, intellectual New Yorker writer who must win over the citizens of a small Kansas town - and a brutal sociopathic killer - to get to the heart of his story. Hoffman's Oscar-winning performance is a peak in an already remarkable career. The real surprise is first-time feature director Bennett Miller's economical and understated work. Capote achieves high drama from the most unlikely of sources, as most of the action takes place inside the mind of a man struggling with his private demons. Yet its ostensibly apolitical take on capital punishment connects the film squarely with today's headlines.
Good Night, and Good Luck would have been an impressive early work from any writer/director. Coming from leading Hollywood heartthrob George Clooney, it's a truly singular success. The film is an intense portrait of TV journalist Edward R. Murrow and his on-air battle with Joseph McCarthy (and the senator's infamous Communist witch-hunt). Shooting largely in close-up and often with handheld cameras, Clooney forges an original, hard-edged visual style that approaches the authority of the best documentaries. He even turns in a credible performance as Fred Friendly, Murrow's producer and partner at CBS News. But it's David Strathairn's Oscar-nominated performance as the clear-eyed Murrow that's the soul of the film.
Good Night clearly comes out ahead on DVD. The transfer is a pleasure to behold, with its impeccable contrast and breathtaking detail. All the power of cinematographer Robert Elswit's stark, cigarette-smoke-infused black-and-white images comes through, even as they blend seamlessly with the archival footage of McCarthy and others. In comparison, Capote's picture looks soft and a little jittery, and it seems to have special trouble with the extra detail of the wide outdoor shots, showing some digital smearing. Color rendition also comes across as needlessly muted, though Miller hardly intended the movie to hinge on lavish visuals. In any case, Capote is simply too engrossing for these flaws to call much attention to themselves. Both discs have extremely low-key sound mixes, which send very little to the surround channels in an apparent effort to focus all attention on dialogue and the incidental effects up front.
Good Night is a little light on extras. A 15-minute featurette serves up the usual on-set interviews and footage (but with a special emphasis on historical accuracy and the contributions of Murrow's surviving family to the film). With its relentlessly deadpan humor, the commentary by Clooney and producer/co-screenwriter/actor Grant Heslov sounds like two old friends goofing around, though it does provide a nice counterpoint to a very serious film. Capote's DVD has three featurettes totaling 40 minutes. The first gracefully illuminates the real-life writer, and the other two are solid making-of segments. The only disappointments are the two commentaries, each featuring director Miller - paired with Hoffman in one and cinematographer Adam Kimmel in the other. Both tracks are remarkably low-energy, leaving the distinct impression that everyone involved would rather let this film speak for itself. Capote: [R] English and French, Dolby Digital 5.1; letterboxed (2.35:1) and anamorphic widescreen; dual layer. Good Night: [PG] English, Dolby Digital 5.1; letterboxed (1.78:1) and anamorphic widescreen; dual layer.
LATEST VIDEO