DVD REVIEWS: Graphic Filmmaking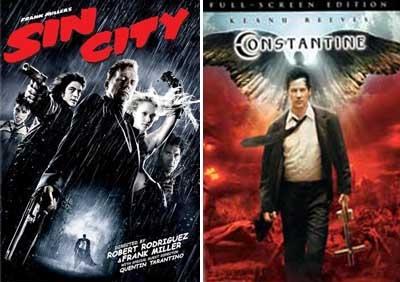 SIN CITY Dimension
---
Movie •••½ Picture/Sound •••• Extras ••
CONSTANTINE Warner
---
Movie ••• Picture/Sound ••• Extras •••½
Darker and hipper than its forebears, the graphic novel serves up a unique set of challenges to anyone bent on turning it into a movie. The
Spider-Man
films proved that first-rate movies can be made from old-fashioned comic books, but the stories of
Sin City
and
Constantine
are rooted in a different cultural realm altogether. Neither of these films hits the bull's-eye, but each delivers an unforgettably wild ride if you're ready to climb aboard.
Sin City isn't really a mere translation of a graphic novel. Somehow, it's the genuine article brought to life. That faithfulness to source material helped director Robert Rodriguez convince the legendary writer/artist Frank Miller to not only okay the adaptation but also co-direct it. Quentin Tarantino guest-directs a scene, too, and Sin City's structure of three brutal, noirish, interlocking tales - starring Bruce Willis, Mickey Rourke, and Clive Owen - has a definite touch of Pulp Fiction about it. The lurid cityscapes look like nothing ever committed to film, though an overindulgence in blood, dismemberment, and misogyny inevitably dampens the effect. If the supremely talented Rodriguez ever makes a film with depth and soul to match his visual flair and technical savvy, he'll have all of Hollywood eating out of his hand.
Constantine is less ambitious, taking great liberties with its source - Jamie Delano and Garth Ennis's popular Hellblazer series - to create a fairly conventional adaptation. And Keanu Reeves teeters on the brink of self-parody as the title character, whose job it is to maintain the tenuous earthly balance between Heaven and Hell. Still, this theological thriller stays fairly entertaining even when the essential silliness of its premise threatens to take over.
These visually arresting movies have been committed to disc with the utmost care and precision. Images in Sin City - mostly black-and-white with splashes of color - are so crisp and atmospheric, a second viewing without sound is positively enthralling. That said, the soundtrack's dynamic multichannel effects are key to the film's visceral power. Constantine looks almost as good, with impressive depth and definition in its all-too-vivid, demon-filled rendition of the world below. Sound veers from atmospheric to explosive, all in clean and controlled Dolby Digital 5.1.
Sin City's only extra is an eight-minute featurette that barely scratches the surface of how the film was created. A full-blown special edition can't be too far behind. [See the interview with Rodriguez.] Constantine's two-disc set fulfills its Deluxe Edition promise in spades. There's a jokey but informative commentary by director Francis Lawrence, producer Akiva Goldsman, and screenwriters Kevin Brodbin and Frank Cappello. An hour-long segmented documentary focuses on the adaptation and the remarkable special effects, including a riveting piece that dissects the Los Angeles-inspired vision of Hell. You also get deleted scenes, the "Passive" music video by A Perfect Circle, three Easter-egg featurettes, and a small-form reprinting of an original Hellblazer edition with a new short story included. Both: [R] English and French, Dolby Digital 5.1; anamorphic widescreen. Sin City: English, DTS 5.1; letterboxed (1.78:1); dual layer. Constantine: letterboxed (2.35:1); one dual-layer and one single-layer disc.
LATEST VIDEO