DVD REVIEWS: Dave Chappelle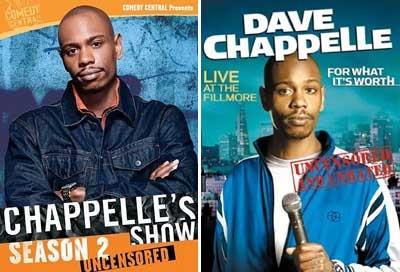 Chappelle's Show: Season 2 Paramount
---
Series •••½ Picture/Sound ••••½ Extras ••••½
Dave Chappelle: For What It's Worth Sony
---
Movie •••½ Picture/Sound ••• Extras •••
It wasn't too long ago that
Dave Chappelle
was best known as the good-natured stoner from
Half Baked
. Now, despite his recent "disappearance," he's one of the hottest comedians since Richard Pryor. Season 2 of
Chappelle's Show
is where he really hit his stride, including the sketch that introduced his signature line: "I'm Rick James, bitch!" His standup act,
For What It's Worth
, is less consistent and potentially more offensive (kidnap victim Elizabeth Smart should probably be above public ridicule), but it hits the mark just enough.
The 13 episodes on the three-disc Show are often blurry, but the Dolby Digital stereo soundtrack has clear dialogue and music with a fair amount of body, bass, and dynamic range. Worth's widescreen images are significantly crisper, and its 5.1-channel mix convincingly places the audience in the rear. Show has laid-back commentaries for five episodes plus an hour of outtakes and some between-sketch standup. Worth comes with worthless clips of the comedian honing his routine in front of a smaller audience. Chappelle's Show: [TV-14] English, Dolby Digital stereo; full frame (1.33:1); three dual-layer discs. Worth: [NR] English, Dolby Digital 5.1; letterboxed (1.78:1) and anamorphic widescreen; single layer.
LATEST VIDEO