DVD REVIEWS: Batman Begins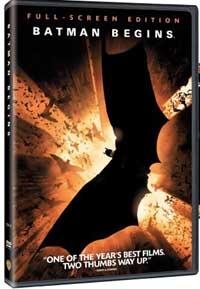 Warner
---
Movie •••½ Picture/Sound •••• Extras •••½
Director
Christopher Nolan
has reinvented the
Batman
franchise by rebuilding the hero from the ground up. Working with co-writer
David Goyer
, Nolan starts with the formative influences on Bruce Wayne's character and then delves into the birth of his alter ego - before ultimately getting down to the fun part of creating the costume, the utility-belt gadgets, and the Batmobile. And although there are plenty of brilliantly executed action sequences in
Batman Begins
, they're always given substance and meaning.
That's because Nolan refuses to condescend to his subject - or treat it with comic irony and cartoony visuals, as previous directors have. Instead, he turns the saga into a realistic story with serious themes that anyone can relate to: identity, duty, fear. Of course, Nolan gets fine help from his star, Christian Bale. And the excellent supporting cast includes Irishmen Liam Neeson and Cillian Murphy, Englishmen Michael Caine, Tom Wilkinson, and Gary Oldman, and the worldly scene-stealer Morgan Freeman.
Despite its departure, this Batman still mirrors the look of recent action movies, with the occasional muting of certain colors to emphasize moods. Yet images on the two-disc set are bright and crisp, with skin tones kept natural. And there's plenty of detail in the cowls, capes, and convincing digital renditions of the buildings and streets of Gotham.
The Dolby Digital 5.1-channel mix boasts clear separation of the soundtrack's many elements. The surround channels are used throughout to build atmosphere - from echoing rooms to dripping, bat-filled caverns - and to pump up the music in the action sequences. There isn't much panning of effects, but one memorable moment has a drugged Bruce Wayne trying to fight off a hidden opponent whose voice keeps popping up all around him (and you).
The main extra is a two-hour production documentary divided into eight subject-specific featurettes. You also get interactive text files on characters and hardware plus a cool 76-page booklet of three drawn stories, which give different eras' interpretations of the eternal Batman myth. Unfortunately, you also get a painfully lame MTV awards-show spoof. [PG-13] English and French, Dolby Digital 5.1; letterboxed (2.35:1) and anamorphic widescreen; two dual-layer discs.
LATEST VIDEO