DVD REVIEWS: The Astaire and Rogers Collection, Vol. 1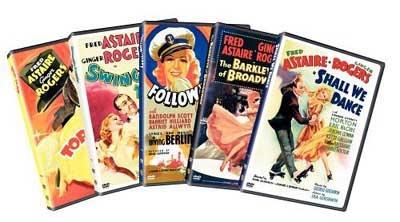 Warner
---
Movie •••• Picture/Sound •••• Extras •••½
As expected, this splendid five-disc set includes the best cinematic achievements of famed dance duo
Fred Astaire
and
Ginger Rogers
:
Top Hat
(1935),
Follow the Fleet
(1936),
Swingtime
(1936),
Shall We Dance?
(1937), and
The Barkleys of Broadway
(1949). But along the way, it also provides a superb 20th-century music sampler, with major contributions from Irving Berlin, Jerome Kern, and George Gershwin.
The first four movies look spectacular. Each picture has been restored so that its rich monochrome tones keep their silk-and-satin sheen. Barkleys is sharp, but the flesh tones are pale - and the sets and costumes have none of the eye-popping hues of The Bandwagon and other recent Technicolor DVD releases restored through Warner's Ultra-Resolution process. For all five films here, the sound has been digitally cleansed of crackle and sibilance, and it offers generous bass. Extras include three scholarly commentaries, four making-of featurettes, five vintage short films, and five classic cartoons. [NR] English, Dolby Digital mono; full frame (1.33:1); five dual-layer discs. Barkleys of Broadway: French, Dolby Digital mono.
LATEST VIDEO
WHERE TECHNOLOGY BECOMES ENTERTAINMENT