DVD Review: Weeds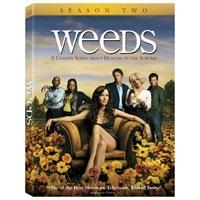 Season 2 Lionsgate
---
Series ••••½ Picture •••• Sound ••• Extras ••••
Before I started watching Showtime's
Weeds
, I thought the ladies in
Desperate Housewives
got some of the best lighting on (HD)TV. But the luminous leading lady of
Weeds
, Mary-Louise Parker - who plays Nancy Botwin, the best-damn-looking drug-dealing mom you'll ever meet - clearly takes the crown. Parker deserves it: She's a top-drawer actress, expert at telling multiple stories with her facial expressions alone. The camera absolutely loves her. And oh, how it especially loves her BIG brown eyes. (
Shrek
's wide-orbed Puss in Boots has got nothing on her.)
But Weeds isn't just an homage to Parker's enticing alabaster visage. Season 2 sees Nancy and her motley pranksters branch out from mere pot-selling to major pot-growing, which naturally leads to a heap of trouble, both legal and otherwise. Thanks to a stellar supporting cast and razor-sharp writing, Weeds is more about family foibles and community dynamics than the next score in the suburban 'hood.
Other elements of the show besides Parker's countenance benefit from these DVD transfers. You'll be able to discern the vaccination scar on the back of Parker's left arm, the detail in the Zulu tattoo on the bicep of Indigo (who plays budding drug momma Vaneeta), the folds in the velvet curtains at the City Council meetings, and the crumpling in the dented door on the cherry-red Mercedes owned by the town of Agrestic's caustic célèbre, Celia Hodes (Elizabeth Perkins).
As to the set design, daytime outdoor scenes set in the Botwin household's expansive SoCal backyard are actually shot indoors - a fact not easily discernible until confirmed via a commentary revelation. Scenes in and around the lush pool are quite a few notches more natural-looking than the cavalcade of conjoined-backyard meetings on HBO's Big Love. The grow house that's meticulously set up by Conrad (Romany Malco) is a treat for the eyeballs, featuring beautifully blown-out bladders of yellow light hovering over and nurturing multiple rows of precious plants. (Said light turns a lovely shade of green for night growing.)
In the sonics arena, about the only surround moments come at the outset of each episode, when the theme song - Malvina Reynolds's seething suburban folk diatribe, "Little Boxes" - plays over the credits. The twist is that different artists cover the song over the course of the season's 12 episodes. Among my favorites: the always expressive Elvis Costello, the French version by Kate and Anna McGarrigle ("Petites Boites"), the quirky chic of Regina Spektor, and the treacly wink of Jenny Lewis with Johnathan Rice.
LATEST VIDEO