DVD REVIEW: Wedding Crashers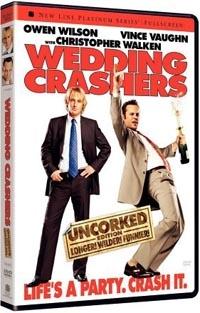 Warner
---
Series ••• Picture/Sound •••• Extras ••••
If you're in the mood to check your brains at the door and just laugh a lot, you might want to pop this disc into your player.
Owen Wilson
and
Vince Vaughn
, who play the uninvited guests, clearly had a blast making this movie, and parts of it are very, very funny. If that's not enough,
Christopher Walken
does his Christopher Walken thing.
The movie looks like most big-budget Hollywood features: colors are bold (to the point of oversaturation) and there's plenty of image detail. The Dolby Digital 5.1 soundtrack, though often restrained, is ramped up for the wedding scenes to completely immerse you in the celebrations. Extras are overly generous given the dopiness of the movie, but they're kind of kicky anyway. You get two commentaries (one with director David Dobkin, the other with Vaughn and Wilson), a pair of goofy making-of featurettes, three deleted scenes, a game, and a music video. [R] English, Dolby Digital 5.1 and Dolby Surround; letterboxed (2.35:1) and anamorphic widescreen; dual layer.
LATEST VIDEO
WHERE TECHNOLOGY BECOMES ENTERTAINMENT