DVD REVIEW: Saraband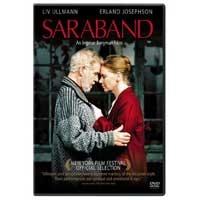 Sony
---
Movie •••• Picture/Sound •••½ Extras ••½
In Ingmar Bergman's 1973 "hit" Scenes from a Marriage, Johan (Erland Josephson) and Marianne (Liv Ullmann) finally got to know each other by getting a divorce. In
Saraband
, a late-in-life revisiting of the two fascinating characters, Bergman not only examines what has become of them but, since it's his declared last film, also brings some conclusion to many of the themes explored throughout his career. At first the film seems like a genuine dance between two people who have become too old to judge (or be judged) too harshly. Once Johan's son and granddaughter appear, though, Bergman begins weaving the marvelously devastating scenes of guilt, cruelty, and suffering that only he can portray with such insight.
Saraband
's picture is bright and very crisp, with good contrast producing deep blacks and a wide range of rich colors. Dialogue is clear, and the music, though not surrounding, comes out nicely into the room. The DVD includes 45 minutes of revealing behind-the-scenes footage.
[R] Swedish, Dolby Surround; letterboxed (1.78:1) and anamorphic widescreen; dual layer.
LATEST VIDEO
WHERE TECHNOLOGY BECOMES ENTERTAINMENT