DVD Review: Sansho the Bailiff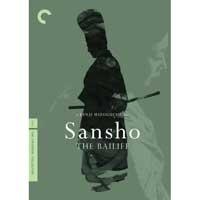 The Criterion Collection
---
Movie •••• Picture ••••½ Sound •••½ Extras ••½
Director Kenji Mizoguchi takes an ancient folk tale - about siblings enslaved to a particularly cruel and greedy master - and turns it into a noble expression of humanity in a time of barbarism. While the theme was timely in 1954, when Japan was still rising from the defeat of World War II, the film can be seen today as a timeless classic.
The DVD transfer is pristine and brilliant. The interplay of light and shadow is stunning, and detail is vivid - from fairy-tale forests to the muddy hell of Sansho's compound. It's as if paintings have come to life. The soundtrack is crystal-clear, with dialogue being particularly impressive. Timbres are often so finely rendered that you feel the characters as much as simply hear them.
The commentary by Japanese-literature scholar Jeffrey Angles concentrates largely on the evolution of the story from an old tale to Mizoguchi's plea for modern social justice. It's a lot more interesting and entertaining than the video piece where critic Tadao Sato analyzes the film. Two other interviews, with co-star Kyoko Kagawa and assistant director Tokuzo Tanaka, are better, both having a good deal to say about Mizoguchi and the film's creation, without taking too much time in saying it. [NR] Japanese, Dolby Digital mono; full frame (1.33:1); dual layer.
more Entertainment reviews Back to Homepage What's New on S&V
LATEST VIDEO