DVD Review: Notes on a Scandal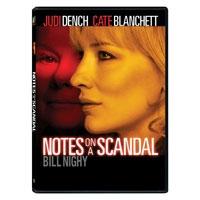 20th Century Fox
---
Movie ••• Picture •••• Sound ••• Extras ••½
Ably assisted by Judi Dench and the wondrous Cate Blanchett - each nominated for an Oscar - screenwriter Patrick Marber and director Richard Eyre have created a guilty pleasure of a movie out of Zoe Heller's guilty pleasure of a book.
Notes on a Scandal
deconstructs the savage relationship between two women: Sheba Hart (Blanchett), a beautiful, entitled art teacher who plucks some forbidden fruit in the form of a 15-year-old student, and Barbara Covett (Dench), an aging fellow-teacher with some serious issues, who discovers the secret.
Blanchett's performance has moments of explosiveness and moments of extreme subtlety. When she's onscreen, which is most of the time, you can't take your eyes off her. Nevertheless, Dench is the axis upon which the movie turns. She squeezes just a bit of empathy out of the generally loathsome and borderline insane Covett, an aptly named battle-ax who lusts after the winsome Hart.
Eyre uses a lot of close-ups of both ladies to help the audience get behind their eyes - a fine artistic choice, given the depth that both actresses bring to their roles. Scandal's DVD transfer is at its best during those shots: The smooth skin and liquid eyes of the stunning Blanchett and the blemishes, pockmarks, and wrinkles of the no-longer-youthful Dench are a study in opposites. Generally, flesh tones and image sharpness are well above average throughout, as is the shadow detail and contrast in several darkly lit scenes.
Sonically, there isn't a lot of action that stretches beyond the borders of the screen, but there is a soupçon of quality sound design. For example, as the opening credits roll, the cacophony of adolescents at play is nicely intermingled with music and Dench's wry voiceover narration. After that, most of the audio stays anchored front and center for the balance of the film.
Extras are quite decent. In addition to a thoughtful commentary by Eyre, you get a trio of making-of featurettes with insight from Heller and Marber as well as lots of nuggets from Dench and Blanchett about how they created their characters. Also included are five fairly superficial "Webisodes" that recycle bits from the featurettes. [R] English, Dolby Digital 5.1; French and Spanish, Dolby Surround; letterboxed (1.85:1) and anamorphic widescreen; dual layer.
more Entertainment reviews Back to Homepage What's New on S&V
LATEST VIDEO