DVD REVIEW: Murderball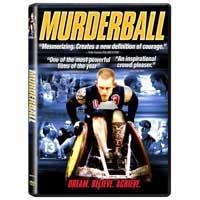 TH!NKFilm
---
Movie •••½ Picture/Sound ••• Extras •••
In their vivid documentary on quadriplegic rugby, co-directors
Henry Alex Rubin
and
Dana Adam Shapiro
present the players neither as sad specimens worthy of pity nor as heroic figures who overcame their handicaps to teach the rest of us how to deal with adversity. Instead, these guys are simply jocks with personality flaws aplenty playing a very violent game.
Murderball
looks much better than the average documentary, with nimble camerawork and editing for the abundant action sequences. The digitally shot images are loaded with detail and exploit a wide range of colors - all of which look natural. While the 5.1-channel mix is full of attacking guitars, it fails to immerse you in the game, instead limiting most of the action to the front speakers. Interesting extras include a featurette on "Quad Rugby," interviews, and six deleted scenes.
[PG-13] English, Dolby Digital 5.1 and 2-channel mono; letterboxed (1.78:1) and anamorphic widescreen; dual layer.
WHERE TECHNOLOGY BECOMES ENTERTAINMENT