DVD Review: The Lives of Others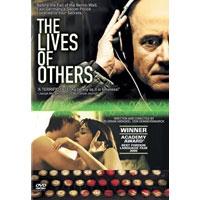 Sony
---
Movie •••½ Picture •••• Sound •••• Extras •••
This German movie, which won the 2006 Oscar for Best Foreign Language Film, is a cooly controlled and oddly touching drama of an officer in the Stasi - the hated secret police of Communist East Germany - who forms an emotional bond with the char­ismatic playwright he has been assigned to bring down.
Technically, the 2.35:1 widescreen transfer is as professional a piece of work as the film itself. The cool yet varied color palette is very nicely rendered, and detail is good without calling attention to itself. Dialogue is crisply reproduced in the Dolby Digital 5.1 soundtrack, with effects (like ominous door knocks) standing out only when they're supposed to. The surround channels are used mainly to provide atmosphere at party scenes and to add some bloom to the lovely score by Stéphane Moucha and Gabriel Yared.
Writer/director Florian Henckel von Donnersmarck is a good talker in excellent and almost unaccented English, and in the commentary he pours out so much about the film's gestation, making, and background that you may have to stop a few times to avoid information overload. A long interview and a making-of featurette amplify what's been said in the commentary. At least as interesting are the extended and deleted scenes (with their own commentaries), which together form a little workshop on how a film is shaped in the editing room.
more Entertainment reviews Back to Homepage What's New on S&V