DVD Review: Half Nelson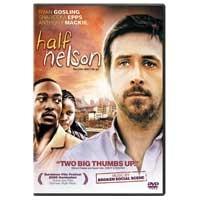 Sony
---
Movie •••½ Picture •••½ Sound •••½ Extras •••
Director/cowriter Ryan Fleck has created a small film that has brains and subtlety.
Half Nelson
follows a gifted Brooklyn high school teacher as he battles against his own drug addiction and for the soul of one of his students. For his portrayal of the teacher, Ryan Gosling got a deserved Oscar nomination - it's a career-making performance, which the actor delivers effortlessly. As the student, Shareeka Epps is almost as impressive and powerful.
The transfer isn't faced with a lot of difficult technical challenges - the film is much more about the narrative - but the hardscrabble parts of Brooklyn look appropriately gritty and well-defined, even in the darker scenes. Likewise, the classroom sequences have good color saturation and image detail amidst some tough lighting.
Surround-channel effects are used only very occasionally, but there's a nice aural sense of movement on the urban streets and in the high school hallways, where voices bounce off stairwells and lockers and hit the listener with various degrees of delay. Sonically, the best part of this disc is its music soundtrack, performed by vaunted indie-rockers Broken Social Scene. Well recorded and mixed, it has plenty of presence, particularly when it swells to underline key emotional moments in the film.
Better-than-average extras include a commentary from Fleck and cowriter/editor Anna Boden (who are more erudite than most in discussing their project); a few minutes of deleted/extended scenes; an okay music video from the rapper Rhymefest; and a 10-minute outtake reel which reveals a very likable Gosling and cast. [R] Dolby Digital 5.1; letterboxed 1.78:1; dual layer.
more Entertainment reviews Back to Homepage What's New on S&V
LATEST VIDEO