DVD REVIEW: Aeon Flux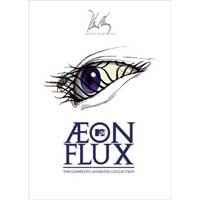 Paramount/MTV
---
Series ••• Picture/Sound •••• Extras •••½
Originally appearing as a number of animated shorts on MTV's
Liquid Television
in 1995,
Aeon Flux
had too much juice to merely tag along and soon became a freestanding TV series (before, in turn, becoming a feature film). The title character, well voiced by
Denise Poirier
, flies through time and space - and kicks serious digital ass. The pictures on the ten episodes in this three-disc Director's Cut Edition have been remastered from the original negatives under the supervision of creator
Peter Chung
. Animation usually looks good on DVD, but these images explode with color and are always beautifully crisp. The Dolby Digital 5.1 soundtrack delivers lots of surround-channel action and punchy bass throughout. A full disc of extras includes a commentary by the extremely talkative Chung and his far less verbose cast and crew. You also get two featurettes and the original
Liquid Television
shorts that spawned the series.
[TV-MA] English, Dolby Digital 5.1 and Dolby Surround; full frame (1.33:1); three dual-layer discs.
LATEST VIDEO
WHERE TECHNOLOGY BECOMES ENTERTAINMENT