Drummers can snare Miles
Do you think you know — or do you think you are — the drummer who has everything? Well, he/she/you will now have to make room for the Miles Davis Kind of Blue 50th Anniversary Snare Drum, offered by the Innovation Drum Company (in conjunction with Miles Davis Properties, LLC) via the Blue Drums name.
But you'd better act kind of fast, because this is a very small Limited Edition. How many snares will be made? Only 50, of course.
And how much will the drum cost? Only $50, of . . . kidding. There are two price options: $1,600 and $3,750. No freeloading here, Freddie!
Details about this (and another Miles product) below . . .
According to a press release, each serial-numbered drum will bear a Kind of Blue 50th Anniversary Badge and will have personalized internal labels bearing the recipient's picture and name. You also get a Certificate of Authenticity from Blue Drums and Miles Davis Properties.
What's more, each drum comes with a copy of Columbia/Legacy's deluxe Kind of Blue 50th Anniversary Collector's Edition boxed set (shown above) — which, it should be pointed out, includes an essay by longtime High Fidelity / Stereo Review / Sound & Vision contributor Francis Davis that won him last year's Grammy for Best Album Notes.
Continues the press release: "Snare drums are available in 5.5 x 14-inch and 6.5 x 14-inch configurations. Shell materials are 100% eight-ply Rock Maple or Aircraft Aluminum. Wood-shell models are offered in gloss clear maple or gloss Kind of Blue metalflake. Aluminum-shell models are offered in gloss Kind of Blue anodized finish. Each drum is offered with the standard strainer ($1,600 price per drum) and the Ultra-Sensitive Strainer ($3,750 price per drum). Please allow 6 weeks for delivery from the date of purchase."
As of today, a Web site for Blue Drums (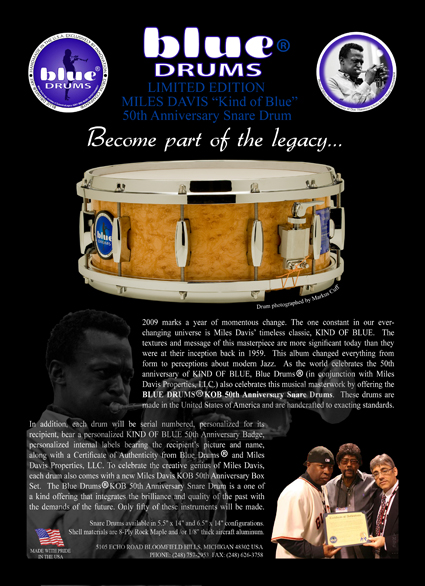 LATEST VIDEO