Dolby Atmos Movie-Theater-Sound Technology Heading to Home Gear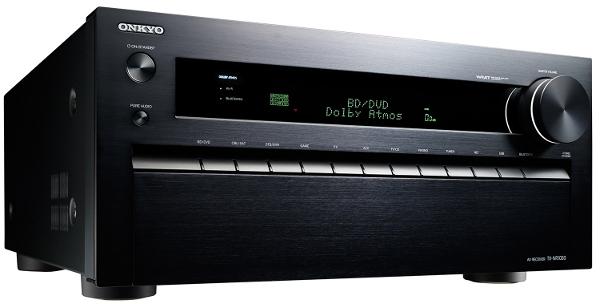 Onkyo, Integra and Pioneer Announce Atmos-Equipped Products
If you haven't heard of Dolby Atmos—Hollywood's attempt at delivering a "powerful new listening experience" that's more enveloping than the best of today's Dolby Surround 7.1 theaters—you might want to find an Atmos-equipped theater near you and see (actually hear) what it's all about now that Atmos is heading home.
Today Onkyo and Integra said they will each ship three Atmos-equipped products to retail stores late summer and Pioneer announced that its Elite SC receivers will be upgradeable to Atmos via a firmware update that will be available by the end of the year.
Dolby Atmos is a multichannel audio format developed for commercial theaters that gives filmmakers a new set of tools. Descriptive metadata embedded in the movie soundtrack and the use of additional speakers in the theater provide more control over the placement and movement of sound around the audience. Think of it as 3D sound. Atmos theaters use multiple overhead speakers to literally heighten sonic realism and additional speakers are placed behind the screen and along the side walls to allow for more precise placement of sound.
Onkyo announced two Atmos-equipped AV receivers— the 9.2-channel TX-NR1030 ($1,699) and the 11.2-channel TX-NR3030 ($2,399)—and the 11.2-channel PR-SC5530 network A/V controller ($2,499). Slated for retail delivery in August, the THX Select2 Plus-certified models feature dual 32-bit DSP engines to decode, scale, and calibrate Dolby Atmos soundtracks and support 4K video at 60 Hz with HDCP 2.2 compatibility for Ultra HD streaming.
Integra announced that the upcoming DTR-60.6 and DTR-70.6 AV receivers and flagship DHC-80.6 network AV controller will launch with Dolby Atmos by late summer/early fall and the current DTR-30.6, DTR-40.6, and DTR-50.6 models will be upgradable to Atmos via a firmware update due in September. Pricing was not announced.
In addition to the Atmos-upgradeable receivers, Pioneer said it will introduce an Atmos-enabled Elite Series line of speakers designed by Andrew Jones. Details of the receivers and speakers will be announced at a press conference on Wednesday.
About 120 movie theaters across the country are equipped with Dolby Atmos, which debuted in 2012. By the end of 2014, well over 100 movies will have been produced using the technology. Recent theatrical releases include Noah, Godzilla, and The Amazing Spider-Man 2. Visit dolby.com for more on Atmos.