DIY Reader Home Theater: Fearless Ingenuity
This humble installation shows how far you can go with a little craftiness and some hand tools.
Like any loyal Home Theater magazine reader, I've spent hours drooling over the kind of six-figure, floor-to-ceiling home theater installations that put many commercial movie theaters to shame. Such ultra-high-end equipment and installations are wonderful eye candy—and something to aspire to—but, for a 20-year-old college student, a more modest installation can still be a real treat. That's why this past Christmas, instead of getting my parents a store-bought gift, I designed and built this custom home theater installation in the family room of our house in Portland, Oregon. And the total cost was less than $4,500!
This isn't my family's first foray into home theater. A comfy upstairs media room sports a 65-inch Mitsubishi WS-65809 rear-projection HDTV, a garden-variety Polk Audio 5.1 surround setup, blackout shades, wall sconces, and a pair of bright-red, oversized Lay-Z-Boy sofas. Still, with friendly get-togethers and other informal functions in mind, I aimed to introduce a brilliant high-definition picture and crisp, room-filling sound to the downstairs area as well, all without breaking the bank. I envisioned a space where my dad could unwind after work and my mom might host an Academy Awards party that spills from the family room into the adjacent dining area. I don't intend other readers to duplicate this specific project, but I'll be glad if this article inspires others to pick up a screwdriver and saw.
Like a lot of new construction these days, the house came pre-wired for surround sound, and the built-in cabinets in the family room have space for a TV. Of course, architects, not A/V professionals, did the design work. I found the wire for the center-channel speaker coiled up in the ceiling above the center of the room, 7 feet to the right of the screen center. Yikes! And whoever designed the existing built-in cabinets clearly had a bulky 4:3 CRT TV in mind, while the adjoining bookshelves are scaled appropriately for a VHS/CD collection (see "Say No to Retro," A/V Interiors, Nov. 2005). Still, I used the pre-wiring for the Speakercraft in-ceiling surround and zone-2 speakers.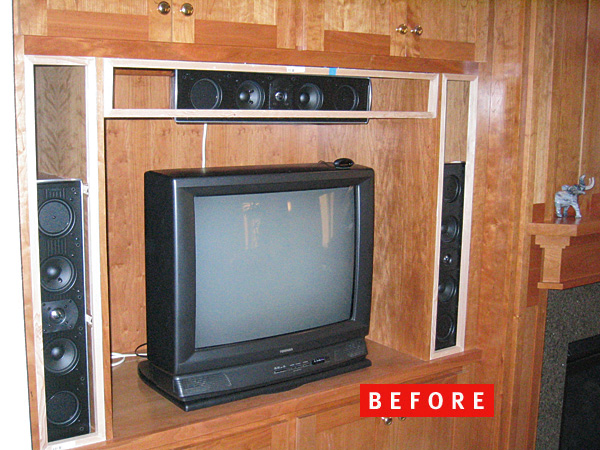 I mounted the center-channel speaker above the TV enclosure, so I managed to narrow the gaping hole to a size appropriate for a 16:9 screen. And, by cutting away the bookshelves to make room for the left and right speakers, I preserved an opening just large enough for a 42-inch screen. Still, I had to select the equipment carefully to make the most of the space. The Panasonic TH-42PHD9UK plasma monitor was an obvious choice for its low cost and no-frills performance, but also because this model's sleek black face and narrow frame were in keeping with the project's dimensions and overall aesthetic. Coby Willcoxson of Magnolia A/V in nearby Beaverton, Oregon, helped me discover the Definitive Technology Mythos Series speakers that I used for the front left, right, and center channels. I reduced the width of each Mythos Six side-channel speaker to 6.06 inches by removing the glass base from each. This made them just small enough to sneak into the 6.375-inch-wide openings where the built-in shelves used to be. If you want to do this sort of thing right, you can't be afraid to take apart anything and everything—including finished speakers and shelves.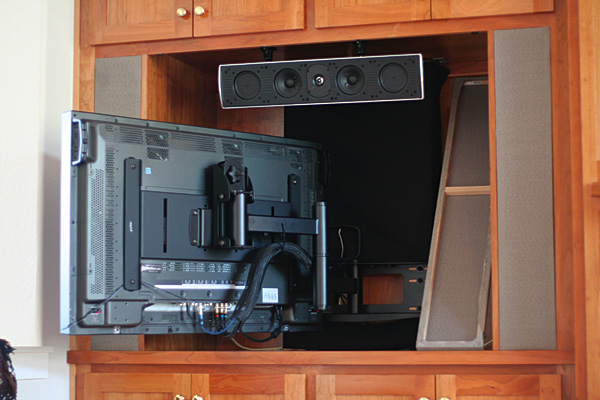 Custom speaker grilles are an easy way to hide otherwise lackluster carpentry. I precisely fabricated frames by cutting both ends of pre-measured square dowels at 45-degree angles using a miter box and joining the pieces with wood glue and finishing nails. To complete the grilles, I stretched fabric around each frame like a canvas and attached them to the back with a household stapler. I used Acoustone sound-transparent grille cloth to match the color of the adjacent fireplace. Ball-and-socket-style clips hold the speaker grilles to the shelves behind and above.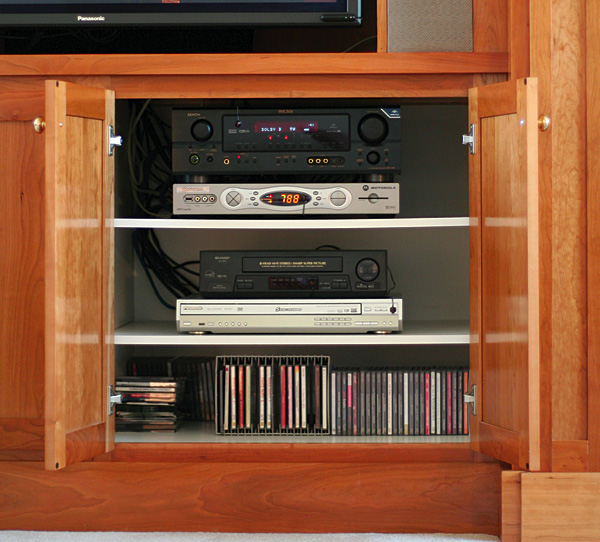 Mounting the TV was a bit tricky because the back of the existing enclosure was not designed to be load bearing, but it was nothing a couple of two-by-fours couldn't fix. A Peerless articulating cantilever mount holds the plasma monitor flush with the front of the pre-existing enclosure and in line with the speaker grilles above and to the sides, while maintaining the ability to extend outward up to 3 feet and rotate 90 degrees to either side for wholehouse viewing. A Speakercraft IR repeater system helps hide the Denon AVR-1906 A/V receiver, Motorola DCT5100 HD cable box, Panasonic DVD-F87 DVD changer, and Sharp VC-H810 VCR out of sight in the cabinets below, where the pre-wired cables connecting the subwoofer and in-ceiling surround speakers terminate. Finally, an Internet-configured Harmony 550 universal remote allows for one-touch control—so guests don't need help to watch TV or a DVD.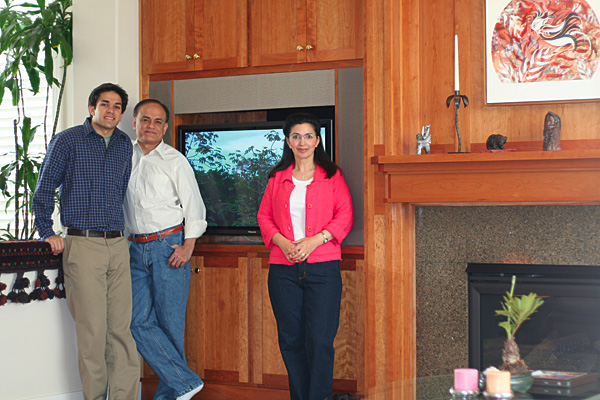 This versatile yet modest system has subtly transformed our house, filling it with music from two zones and sending the sofa courtside at Staples Center when the Lakers are on TNT. We couldn't be happier with the results.
Total Budget: $4,500
LATEST VIDEO