David Gilmour on Blu-ray and HD DVD
Hot on the heels of the big Led Zeppelin announcement (see my post below) comes word that David Gilmour's imminent DVD, Remember That Night: Live at the Royal Albert Hall (Columbia), will also be available on both Blu-ray Disc and HD DVD. Each of the three formats will appear in a two-disc Special Edition.
Whereas the standard DVD is scheduled for September 18, the Blu-ray version will follow two weeks later, on October 2. No official word yet on the HD DVD - not surprising, since that format is the enemy of Sony, parent company of Columbia. In fact, Columbia's corporate Sell Sheet makes no mention of the HD DVD, although yesterday's press release does (see below).
By my count, that makes 7 music titles that are appearing across all formats: U2's Rattle and Hum (see comparison review), Alice Cooper's Live at Montreux 2005, Toto's Live in Amsterdam, Pat Metheny Group's The Way Up: Live (see comparison review), Nine Inch Nails' Beside You in Time (stay tuned for my comparison review in the October print edition of S&V and then in the Web site's "High-Def/Surround" reviews), the Led Zep title, and now Gilmour.
The Albert Hall release itself should be extraordinary: a 2½-hour concert film shot in high-def by David Mallet plus 2¾ hours of extras, including 14 bonus tracks and 3 documentaries.
See the press release below for complete details. -Ken Richardson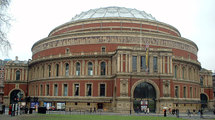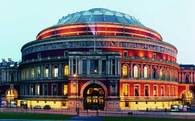 (All photos, except Hall day-shot, by Polly Samson)
COLUMBIA RECORDS ANNOUNCES
THE STATESIDE RELEASE OF DAVID GILMOUR'S
"REMEMBER THAT NIGHT - LIVE AT THE ROYAL ALBERT HALL"
ON TUESDAY, SEPTEMBER 18
Double DVD Set, Directed By David Mallet, Features More Than Five Hours Of Material, Including An On-The-Road Documentary And Guest Appearances by David Bowie and Robert Wyatt
David Gilmour To Premiere One-Time Theatrical Presentation of "Remember That Night - Live At The Royal Albert Hall" To 111 Movie Theatres On Saturday, September 15, At 3pm (Eastern)/12pm (Pacific)
# # # # #
One critic described David Gilmour's "On An Island" Royal Albert Hall concert as "a near-perfect gig, where the magic kept coming, as did the surprises." Now music fans, who may have missed Gilmour's 2006 tour, get a chance to share in that magic with the release of "Remember That Night - Live At The Royal Albert Hall," a double DVD commemorating Gilmour's highly acclaimed SRO tour. Lasting more than 5 hours, "Remember That Night - Live At The Royal Albert Hall" includes Gilmour's rave-reviewed London concert -- featuring special guest appearances from David Bowie, Robert Wyatt, David Crosby, and Graham Nash -- as well as 2 hours and 40+ minutes of extras, notably a revelatory fly-on-the-wall documentary following Gilmour and his band on tour. A 20-page booklet accompanies the DVD.
Gilmour's two-and-a-half-hour concert features band members Richard Wright of Pink Floyd, Phil Manzanera of Roxy Music, new band member Steve DiStanislao on drums, plus Pink Floyd regulars Dick Parry, Guy Pratt, and Jon Carin.
David Gilmour, the legendary guitarist and voice of Pink Floyd, will premiere an 85-minute theatrical version of "Remember That Night - Live at the Royal Albert Hall" to 111 movie theatres on Saturday, September 15, at 3 p.m. Eastern/Noon Pacific. This exclusive, one-time event will also include a one-song live performance by David Gilmour prior to the concert and end with a special question-and-answer session -- both live via satellite from London.
Disc 1 of "Remember That Night" includes Gilmour's critically-acclaimed concert, featuring songs from his #1 UK chart-topping album "On An Island" as well as Pink Floyd classics such as "High Hopes," "Shine On You Crazy Diamond," "Comfortably Numb," and the first filmed performance (since Pink Floyd's "Live at Pompeii") of the epic 20-minute tour de force, "Echoes." The concert's state-of-the-art production comes courtesy of lighting genius Marc Brickman. The show was filmed by David Mallet, one of the world's leading music directors. For the 23-camera shoot, David Mallet used the latest in high-definition digital technology to create a film that is nothing less than stunning. A groundbreaking must-have DVD: David Gilmour's "Remember That Night - Live At The Royal Albert Hall" in Standard DVD, HD DVD, and Blu-ray Disc formats.
Disc 2 of "Remember That Night" is packed with rarities and previously unreleased material, including "Breaking Bread, Drinking Wine," a 46-minute road movie filmed during the 2006 tour. Allowing fans a unique "seat on the tour bus," "Breaking Bread, Drinking Wine" gives viewers a rare glimpse of David Gilmour, the man and musician, his band and crew enjoying and enduring the highs and the lows of life on tour: flashfloods, a collapsing stage, a Russian wine-glass player, and problems with German trains!
Other DVD extras include bonus tracks from the Royal Albert Hall, Gilmour's first-ever performance of the Syd Barrett classic "Dark Globe," "Astronomy Domine" Live From Abbey Road, and the AOL sessions recorded while on tour in LA. Five songs from the BBC Mermaid Theatre concert are also on Disc 2, along with a five-minute documentary shot on tour in LA. The DVD also includes a photo gallery featuring the tour crew, shot by tour photographer Polly Samson.
"Remember That Night - Live At The Royal Albert Hall" comes with a 20-page booklet featuring more than 80 photos selected from studio recording, touring, and time off.
"Remember That Night - Live At The Royal Albert Hall" gives fans an exclusive virtual backstage pass, allowing them to share many of the musical highlights from David Gilmour's 2006 tour, including the making of his #1 UK chart-topping album, "On An Island," released in March 2006. Tours in Europe, the US, and the UK followed the release of the album, with the concerts held in theatres chosen by Gilmour, preferring the intimacy of such venues after a lifetime of stadium rock. In response to his first tour, his first since Pink Floyd's 1994 "Division Bell" global jaunt, David Gilmour remarked, "It's an extremely enjoyable tour, fantastically good fun and very, very satisfying."
"It's probably the most fun, most professional, and easiest tour I've ever done in my life," concurred Gilmour's longtime bandmate and co-member of Pink Floyd Rick Wright.

TECHNICAL INFORMATION
Track Listing:
DISC ONE - Live At The Royal Albert Hall:
1 Speak To Me
2 Breathe
3 Time
4 Breath (Reprise)
5 Castellorizon
6 On An Island featuring Crosby & Nash
7 The Blue featuring Crosby & Nash
8 Red Sky At Night
9 This Heaven
10 Then I Close My Eyes featuring Robert Wyatt
11 Smile
12 Take A Breath
13 A Pocketful of Stones
14 Where We Start
15 Shine On You Crazy Diamond featuring Crosby & Nash
16 Fat Old Sun
17 Coming Back To Life
18 High Hopes
19 Echoes
20 Wish You Were Here
21 Find The Cost Of Freedom featuring Crosby & Nash
22 Arnold Layne featuring David Bowie
23 Comfortably Numb featuring David Bowie
DISC TWO - Bonus Features:
Performances from the Royal Albert Hall:
1. Wot's Uh The Deal
2. Dominoes
3. Wearing The Inside Out featuring Richard Wright
4. Arnold Layne featuring Richard Wright
5. Comfortably Numb featuring Richard Wright
Documentary: Breaking Bread, Drinking Wine
Performance from the Summer Tour 2006: Dark Globe
Recorded at Abbey Road Studios: Astronomy Domine
Performance from the AOL Sessions: This Heaven
Performances from the BBC Mermaid Theatre concert:
1. Castellorizon
2. On An Island
3. The Blue
4. Take A Breath
5. High Hopes
Documentary: The Making Of 'On An Island'
Documentary: The West Coast
Music Videos:
1. On An Island
2. Smile
Bonus Track: Island Jam 2007
Photo Gallery
TECHNICAL SPECIFICATIONS
Director: David Mallet
Total Duration: 5 hours, 13 minutes
Label: Columbia Records
Subtitles: English, Francais, Espanol, Deutsch, Nederlands, Italiano,
Portugues, Polski.
Standard DVD:
Language English
Region 2
Aspect Ratio 16:9
Number of Discs 2
Classification Exempt
Release Date 18th September 2007
Run Time Disc 1: 151 mins; Disc 2: 163 mins Total: 314 mins
Available Audio Tracks Dolby Digital 2.0 Stereo, Dolby Digital 5.1
Surround
Disc Format: DVD-9 (Dual-Layer)
DVD Features Bonus Tracks (14), Documentaries (3), Music Videos (2),
Photo Gallery
Blu-ray Disc:
Language English
Region B
Aspect Ratio 16x9 (1920 x 1080)
Number of Discs 2
Classification Exempt
Release Date 2nd October 2007
Run Time Disc 1: 151 mins; Disc 2: 163 mins Total: 314 mins
Available Audio Tracks LPCM Stereo, Dolby TrueHD 5.1 Surround
Disc Format: BD 50 (Dual-Layer)
DVD Features Bonus Tracks (14), Documentaries (3), Music Videos (2),
Photo Gallery, Lyrics, Subtitles
HD DVD:
Language English
Region TBC
Aspect Ratio 16x9 (1920 x 1080)
Number of Discs 2
Classification Exempt
Release Date TBC 2007
Run Time Disc 1: 151 mins; Disc 2: 163 mins Total: 314 mins
Available Audio Tracks Dolby Digital Plus Stereo, Dolby Digital Plus 5.1
Surround
Disc Format: HD 30 (Dual-Layer)
DVD Features Bonus Tracks (14) Documentaries (3) Music Videos (2)
Photo Gallery
LATEST VIDEO