David Byrne: Same as it ever was!
  Last night, my wife and I saw David Byrne in concert in Charleston, South Carolina, and Byrne put on a rockin' show! 
In what was practically a two-hour love letter to fans, Byrne played a ton of Talking Heads material, as well as some solo work and some of his earlier "experimental" stuff. Since the show is dubbed "songs of David Byrne and Brian Eno," the Heads songs were nearly all from Eno-produced Remain in Light and Fear of Music, with the notable exception of "Burning Down the House" from Speaking in Tongues.
David was in great form and high spirits throughout the show, and seemed to be really digging it and feeding off the crowd's hugely enthusiastic vibe. The show highlight for me was "Once in a Lifetime" which was followed by a 3-minute standing-O from the crowd. I spent the 3-minutes high-fiving and chest-bumping 14-year old me, who still mourns missing out on 1984's Stop Making Sense tour.
Among the set list were "Crosseyed and Painless," "Take Me to the River," "I Zimbra," "Heaven," and "The Great Curve." My only criticism was that he should have ended the show on a more upbeat note than "Everything That Happens Will Happen Today."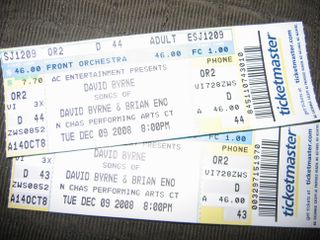 We had some SWEET seats in the 8th row, and had an absolute killer time. While the tour has been going on for a while, you can check upcoming locations  Highly recommended!--John Sciacca
LATEST VIDEO