Custom Installer: Green Life Part 1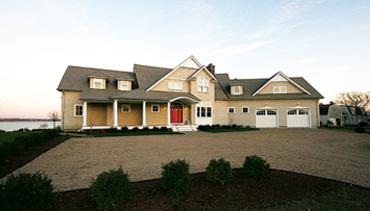 What constitutes "green"? Shipping items in smaller packaging that uses less material or has been recycled from other packages? Being in compliance with RoHS (Reduction of Hazardous Substances)? Owning Energy Star-rated electronics that draw less "vampire power" when off?
As much as we'd like to think that we're green or eco-conscious, many of us go through life generating a carbon footprint. So it's good to know that there's someone in the consumer electronics industry really taking a stand for green living: Kim Lancaster, president of Caster Communications, a public relations company that handles industry stalwarts like Anthem, Control4, MartinLogan, Paradigm, and Runco. And she recently built a new home that's both green and smart.
When I asked Lancaster why she wanted to build a green home, her answer was simple: "It's better all around. Better for my family, better for the environment, and also better for my business. Once you start doing the research and become aware of statistics like the increase in childhood asthma and carcinogens in the home, it's hard to say, 'Sure, put the high- VOC paint on our walls or the high-chemical carpets on the floors.' The more I read, the more I wanted to be part of the movement; I also wanted to prove that you could build green and still have cool technology and live in a real house."
One of several in-wall, 7-inch Control4 touchscreen controllers. The Control4 automation system runs all of the subsystems: lighting, HVAC, irrigation, security, and audio/video.
From a business standpoint, it put her company right at the forefront of something that is, as they'd say in the Northeast, wicked popular right now. The 4,350-square-foot home, located on the Rhode Island coast, achieved a LEED (Leadership in Energy & Environmental Design) Gold rating of 92.5 points by the U.S. Green Building Council, the first in the state. It's also the first home in the country to achieve both Platinum and Green ratings by the TechHome Rating System, meaning it doesn't skimp on any toys.
Achieving these ratings meant paying strict attention to every aspect of the building project: selecting recycled or renewable resources, limiting waste from the project during the build, and limiting consumption of resources following the build.
For anyone looking to build green, Lancaster advises, "hire both an architect and a builder who have already done a LEED project. Use an awesome electrician, and make sure your HVAC installer has a mechanical engineer on staff."
Another crucial project element was RS Audio Video Design, a Rhode Island custom installation firm. "They were the epicenter of the project, working with the builder, architect, engineer, lighting designer, electrician, HVAC, and security team," said Lancaster. "They connected every system into Control4 so they touched everything, making them an incredible resource to the LEED integrated project team."
Building green did require some compromises. Certain electronics systems, like the NuVo Essentia E6G, were chosen specifically for their ultra-low power consumption. Other green elements added about 13% to the overall cost of the project. Things like using recycled glass tiles, low-VOC paint, and Forest Stewardship Council-certified woods all added marginally to the building costs. However, it was the 70 recessed LED light bulbs - with a cost that Kim described as "staggering" - that added the most.
Ultimately, the energy savings will recoup these costs, not to mention contribute to far healthier living for her family. The home is rated as being 42% more efficient than a traditional home, and water usage is reduced by nearly 33% inside the home and 63% on landscaping due to rainwater harvesting. (The home collects more than 2,300 gallons from just 1 inch of rainfall!) Also, during the 14-month building project, 87% of the construction debris was diverted from the waste stream.
One surprise bit of savings came from the geothermal system. While it cost about $6,300 more up front, it included rebates and tax incentives totaling nearly $43,000 and will save the family an estimated $5,985 per year on fuel costs and eliminate 19.6 tons of carbon dioxide from entering the atmosphere.
In next issue's column, I'll discuss the home's A/V and automation-control systems and how they contribute to green living. In the meantime, you can learn more about this home at greenlifesmartlife.com.
John began his career as a custom installer in 1998 at Custom Theater and Audio in Murrells Inlet, South Carolina, where he still works. While John's 60-inch Pioneer Elite plasma HDTV is regrettably un-green, he tries to atone for it by taking out the recycling and enduring life with hateful, non-dimmable CFL bulbs in several rooms of his house.
LATEST VIDEO