Creative Zen Vision:M Portable Media Player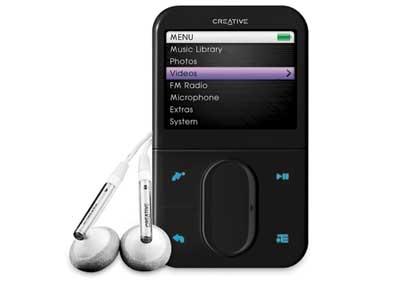 The Short Form
$300 / 4 x 2.5 x 0.8 IN / 5.8 OZ / us.creative.com / 800-998-1000
Plus
•Good video and audio quality •Long battery life
Minus
•Awkward touch-pad control •Bulkier than the iPod •Works only with Windows XP
Key Features
•30-gigabyte (GB) hard disk •2.5-inch, 320 x 240-pixel LCD screen •Plays MP3, WMA, and WAV audio; MPEG1/2/4, WMV9, Motion-JPEG, DivX, and XviD video •Rated battery life: 14 hours (audio), 4 hours (video) •FM radio/recorder •Voice recorder •Five colors available
Let's be honest: The Creative Zen Vison:M portable media player is an iPod knockoff. There are MP3 players, and then there are iPod knockoffs - players so similar that it can't be pure coincidence. Announced just a couple of months after Apple introduced its video-enabled fifth-generation iPod, the Vision:M also aims to be a high-capacity music player with decent video capabilities. And, as you'll see, it performs those functions very well indeed. But it also eerily mimics the iPod, and when you closely imitate something so beloved, minor differences really get noticed - usually for the worse.
Exhibit A: the vertical touch pad smack in the middle of the Vision:M's controls. The pad is a different take on the iPod's elegant clickwheel. Sliding your fingers up and down the pad, you scroll around menus or fast-forward through songs and videos. You select things (like a song in a playlist) by touching the center of the pad. But since the selection area of the pad isn't distinct, trying to punch up the right option often leads to accidental scrolling - a real hassle.
SETUP Setting up the Creative Zen Vision:M will be impossible without Windows XP - the supplied Media Explorer software will refuse to install on older Windows operating systems, and as with all of Creative's players, Mac users need not apply. But once it's installed, the software makes copying media files to the player a no-brainer: just select the ones you want, hit "Transfer," and - BAM! - you're loaded up. One strength of the Vision:M is that it's not nearly as picky as the iPod about what kinds of video files it will play. It won't, however, play the MPEG-4 videos the iPod likes. As with most portables, creating playlists on the go is cumbersome, so it's best to play DJ on your PC and then bring your lists over.
Speaking of DJ, the Zen Vision:M has a cool option in its music menu called just that. Besides keeping track of your most frequently played songs, the DJ submenu also compiles a Rarely Heard list of tunes you haven't played in a while - a nice detail. Another perk is the My Shortcut button, one of the four "hard" buttons on the main controls. You can assign this button whatever command you want - shuffle songs, for example.
LATEST VIDEO