Converging on the Future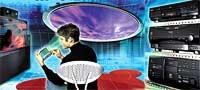 Let me make one thing perfectly clear. This is not your father's stereo. In fact, it's not his home theater either. Kenwood has come up with a networked home entertainment system that promises to provide easy access to movies from a DVD megachanger and music from a variety of sources, including CDs, MP3 music files stored on a hard-disk drive - even Internet radio stations. While it's clear that this system pushes the boundaries of technology, does it set the stage for a new generation of A/V super systems? Or is it just another clumsy attempt at "digital convergence"?
To find out, I evaluated a system comprising three components from Kenwood's flagship Sovereign line: the VR-5900 digital surround receiver (reviewed in September 2001), the DV-5900M 403-disc DVD-Audio/Video changer, and the Entré Entertainment Hub - a hard-disk-based, Internet-capable component Kenwood considers so special it merits both a name and a number (MR-H1). Connect the Entré to the receiver and changer using a couple of RS-232 computer cables, and it becomes the brains of a fully integrated system. (It also works with Kenwood's DV-5050M megachanger and other Sovereign receivers.)
The VR-5900 is a formidable receiver in its own right. As David Ranada pointed out in his review, it "literally bulges with concealed powers and abilities." For starters, it sends 130 watts to each of the five main channels, decodes all of the 5.1- and 6.1-channel surround sound formats, and is THX Ultra-certified. It also comes with a nifty radio-frequency (RF) touchscreen remote, the PowerTouch III, which you can use to control the Entré as well - and thus the entire system. And the VR-5900 has a vast array of connectors, including no fewer than seven optical and seven coaxial preassigned digital audio inputs, two component-video inputs, and one component output.
The DV-5900M megachanger is equally impressive. For starters, it holds up to 403 discs and plays both DVD-Video and DVD-Audio recordings. It also plays all kinds of CDs (including CD-Rs and CD-RWs with MP3 files), provides both interlaced and progressive-scan video outputs, and comes with a wireless keyboard for entering disc information. Hey, it can even play both sides of double-sided DVDs automatically! (In case you're wondering why 403 discs instead of an even 400, three slots have separate play buttons as well as extra finger room so you can easily swap rented or borrowed discs in or out.)
The system's real centerpiece, though, is the Entré - which is why Kenwood calls it an "entertainment hub." Anyone with more than a modest home theater system knows how complex such a system can get - and how frustrating it can be to operate it. The Entré attempts to overcome that frustration with system integration and easy-to-use onscreen controls. But at the same time as it simplifies control, the Entré enables the system to do more than conventional A/V components would be capable of, especially through its connection to the Internet.

In The Lab
---
LATEST VIDEO