Convergence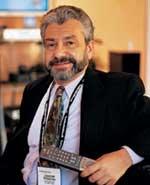 The mutual embrace of A/V and PC got considerably tighter at this year's CES, most visibly with the proliferation of devices that let you experience all kinds of music and video entertainment on your TV and stereo. And almost every one of these products could connect to some kind of wired or wireless network - yet another sign of how deeply the PC mindset has taken hold in the home.
Traditional A/V companies like Sharp and Philips showed TVs that double as media receivers (click to read Video), while Denon introduced the NS-S100 hard-drive-equipped Network Server, which does everything from record TV shows to rip CDs. (The NS-S100 is expected to sell for about $4,500 and be available mid-year.) Meanwhile, D-Link introduced the DSM-320 Wireless Media Player ($149, due out in late February) - one of the latest of the score of receivers from various companies that can stream music, video, and photos from your computer to your TV.
The most innovative media receiver was Prismiq's MediaPlayer/Recorder (shown at right), which not only receives content from a PC but takes advantage of your home network to let you record shows to a computer in another room. Could Prismiq's approach of letting you use your existing PC for video recording make standard hard-disk recorders like TiVo obsolete?
Meanwhile, Hewlett-Packard chairwoman Carly Fiorina showed distinct signs of hard-drive envy when she used her CES keynote speech to jilt longtime partner Microsoft and announce that her company is teaming up with Apple to slap the HP logo on iPods. By supporting the AAC audio compression format that Apple uses for downloads from its iTunes Music Store, HP might even slow the juggernaut that is Microsoft's WMA (Windows Media Audio) format.
Apparently Microsoft chairman Bill Gates isn't pleased. He used his keynote speech to announce a line of Portable Media Center devices to be made by Samsung, Sanyo, iRiver, ViewSonic, and Creative (click here to read more). Noticeably absent from the list was HP - which is ironic when you consider that it was the first company to introduce a full-size Media Center PC more than a year ago.
LATEST VIDEO