A Class Act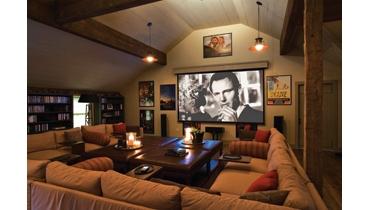 A voice booms from the ether of the home theater like a female Jehovah. "Pick up Line 2," it commands. "Meryl wants to talk to Natasha." I'm alone in the room and, tech-savvy guy that I am, can't figure out if I should shout a response back into the void as I fumble around looking for a handset to pick up or a button to press. A moment later, Natasha Richardson enters briskly from outside and walks into the next room, where she takes the call. "Meryl," of course, is Meryl Streep, and because I was struck dumb by the intercom, I missed my chance to talk to the Hollywood legend.
The home theater is the new pride and joy of Liam Neeson (Batman Begins, Schindler's List, The Phantom Menace, Darkman, Gangs of New York) and his wife, Natasha (The Parent Trap [1998], The White Countess, Maid in Manhattan, Fat Man and Little Boy, The Handmaid's Tale), and it's located in a 150-year-old barn on their farm a couple of hours north of New York City. "Meryl" is calling because tonight is the theater's coming-out party, and Liam and Natasha have invited some of their actor friends over for the inauguration.
It is also the day of Paul Newman's death, so the hosts have decided to use the evening to pay tribute. Natasha later tells me that they had a hard time picking which Newman film to watch. "But by popular decision - we held a vote - it was Hud," she says. "I'd forgotten all about Hud," Liam says, "as indeed nearly all our guests had, too. So we put it up and it was black-and-white, and it was just an extraordinary film. Just to see it in that size, with that beautiful definition. It looked as if the movie was made last Tuesday - it was that fresh. And with the equipment we had, it was just f---ing sharp as a razor."
When I ask how their friends reacted to the new theater, Natasha says, "Gasps."
"No, really," Liam says. "Gasps."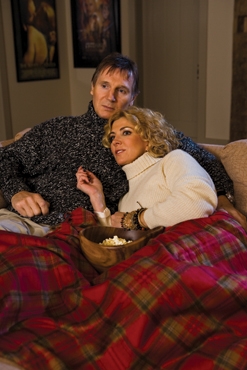 Neeson and Richardson enjoy a movie in their home theater.
The home theater sits in a 29 x 29-foot space in the middle of the barn, with a gym on one side and a game room (for Liam and Natasha's sons, ages 12 and 13) on the other. The couple wanted something that would equal what they experience in a first-rate movie theater, but with the fewest number of components and the simplest possible operation.
The heart of the system is a Runco VX-22i three-chip DLP projector, a 10-foot retractable Screen Research ClearPix screen, and a Polk speaker system, featuring RTi A7 towers, a CSi A6 center, LCi-RTS FX in-wall surrounds, and two CSW100 in-floor subwoofers. Practically all of the electronics duties are handled by a Crestron Adagio AIP Media System processor, while a Samsung BDP-1500 Blu-ray player handles the discs and a Scientific Atlanta Explorer 8300HD tuner/DVR supplies the cable-TV signal. A Panamax M1500-UPS backup battery and M4300-PM line conditioner keep tabs on the power.
Since Liam and Natasha like to entertain (she's renowned as both a cook and a hostess), the room features a massive C-shaped sectional sofa and a large bar area in the back. "It was important to us from the get-go that this not be in any way a rigid room," she says. "It had to be a really comfortable, multifunctional space."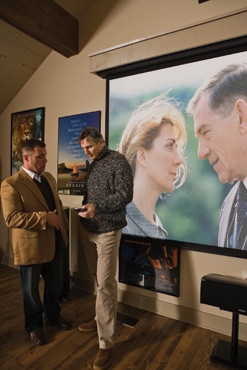 S.E.A.L. Solutions' Chris Wyllie shows Liam Neeson how to use the Crestron system remote while standing in front of the retractable 10-foot Screen Research ClearPix screen.
The interior's design is the work of Anthony Cochran, whose decisions would ultimately have a big impact on the system and how it was integrated into the theater. "Liam and Natasha asked for a casual screening room where they could seat up to 12 people comfortably, but not in stadium seating," Anthony says. "They wanted a space that reflected the casual elegance of the farm, not a glossy Hollywood theater. And they wanted it to be just as cozy for an intimate family gathering as it would be for a larger screening party."
"We're already starting traditions by deciding to be a bit Old Hollywood about it," Natasha says. "Every month, we have a Friday-night screening of a classic film at 6. So our friends come over, we have a drink, settle down, watch the movie, and then have dinner.
"We do this to avoid being in the situation that I think we all -working people, busy people - often are. You come home from work or you have children or whatever, and you have dinner, and by the time you've settled down in front of the TV to watch a movie, you're ready to fall asleep. This changes that experience. It makes it feel very special. It's not something you want to pop in and out of. You don't want to be using a pause button; you want to absolutely soak in it. And for me it means you have to choose movies worthy of the experience."
LATEST VIDEO