CES 2017 Tech Trends to Watch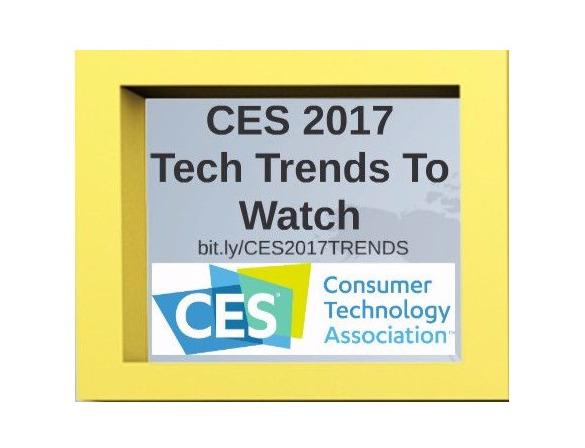 At a recent CES Unveiled press event in New York, Shawn DuBravac, chief economist for the Consumer Technology Association (CTA), singled out five tech trends to keep an eye on at the upcoming CES 2017 show, which opens in Las Vegas on January 5.
1. The New Voice of Computing
Voice control will take over as the next computer interface as accuracy reaches "human parity" in 2017. Noting that the traditional graphical user interface (GUI) started to disappear with wearables and other non-traditional computing applications around 2010, DuBravac said "vocal computing" will gradually replace traditional GUIs for emerging computer applications over the next few years. He pointed to Amazon's Echo smart speaker as one example of a voice-driven hub device, a category that will continue to grow as we head toward an era of faceless computing.
2. The Rise of Autonomous Living
Increasingly intelligent systems will connect a diverse array of objects, leading to the proliferation of autonomous living. DuBravac called broadband and Wi-Fi adoption the modern-day equivalent of electrification and indoor plumbing, which drove dishwasher uptake in the 20th Century from 58 percent in 1985 to 80 percent today. The smart home technology behind autonomous living is currently a $25 billion market globally, according to CTA estimates, and growing fast.
3. Car Tech Transforms Transportation
The recent trend of CES as a major showcase of new car technology will continue with an emphasis on driver-assist systems and self-driving cars. DuBravac noted how some automakers have started to introduce new car models at CES instead of auto shows.
4. The Rise of AI
Artificial intelligence will play an increasingly prominent role in the way we work, communicate, and access information—just as computers have shaped how we work today.
5. The Rise of Alternate Realities
The future of entertainment, which DuBravac referred to as "digitizing the consumer experience," will be front and center at CES 2017 where the intersection of virtual reality and augmented reality will reveal exciting new possibilities.