CES 2013: Sharp Stays Big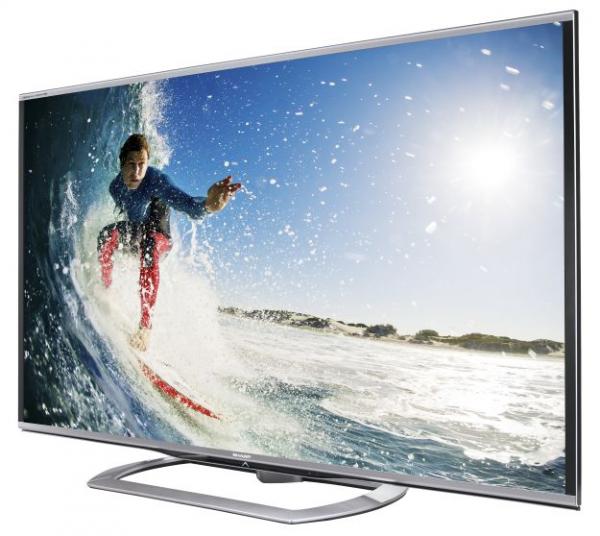 Sharp wanted to be the name in massive flat panel TVs, and that it achieved. With other companies "making do" with 65-inch TVs, Sharp's 70-, 80-, and 90-inch models make them seem puny.
Lots of models, after the jump.
All the models feature some variation of Sharp's Aquomotion, but the actual panel refresh rate is listed below as that's more important. Expect 4K announcements this summer.
6-Series
At the low end of the 2013 models is the 6-Series. All models have a dual-core processor for rapid navigation of their Smart TV and web browser features, which access your LAN via built-in WiFi. The 3D panels are 120 Hz and none feature Sharp's Quattron yellow sub-pixel.
Models:
Active 3D, available in March
LC-60LE657 60-inch
LC-70LE657 70-inch
2D, available in February (May for 80-inch)
LC-60LE650
LC-70LE650
LC-80LE650
2D, available "Q1" (difference not explained. Presumably they're models for specific stores, like Walmart.
LC-60C6500
LC-70C6500
LC-80C6500
7-Series
In the middle is the 7-Series. The step up gets you the Quattron yellow sub-pixel, 240 Hz refresh panels, plus the features from the 6-Series. All are 3D, and the 755 and 757 comes with 2 pairs of Bluetooth glasses.
Models:
LC-80LE757 (May)
LC-70LE757 (April)
LC-60LE757 (April)
LC-70LE755 (February)
LC-70LE755 (March)
LC-60C7500 (March)
LC-70C7500 (March)
8-Series
At the top of the line is the 8-Series. You get the new "Super Bright technology" that claims to significantly increase brightness. Brightness was not one of the issues I had with the 80-inch I reviewed.
Otherwise, the features are the same as the 7-Series. That is, except for an "Ultra slim silver aluminum frame with diamond-cut edges" which has to be one of the best descriptions of a thin bezel I've read. The 70- and 80-inch models are shipping in April, the 60 is in March.
Models:
LC-80LE857
LC-70LE857
LC-60LE857
The 90-inch model carries over.
LATEST VIDEO