CES 2013: Panasonic Previews Pretty Plasmas (likewise, LED LCDs)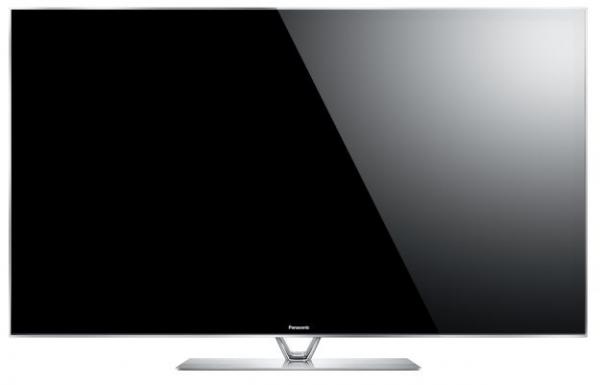 There's a few big headlines right off the top. The first, Panasonic's entire LCD line now uses LEDs for backlighting. The second, no more GT Series on the plasma side. The third, a new ZT Series slots in above the once-top-of-the-line VT Series.
All the models and features after the jump.
ZT60 Plasma
Perhaps most interesting is the ZT60 Series, the new top of the line plasma. Available in 60- and 65-inch sizes, the ZT60 is being positioned as even better than last year's VT50, which we picked as
Video Product of the Year
. The "Studio Master Panel" has a new "driving method and panel structure" which, along with a "direct glass layer," has a claimed higher contrast and lower black level. There's a new red phosphor which can be used to expand the color gamut. I'll presume there's a mode for that, give that the TVs are THX Certified (pending). It's got all the bells and whistles you'd expect (including no actual bells or whistles), and even has voice control. It, along with the rest of the plasma line, will start shipping in February.
Models:
TC-P60ZT60
TC-P65ZT60
VT60 Plasma
If the VT60 is being positioned lower in price than last year's VT50, it doesn't show in the content. An Infinite Black Ultra panel, 3000 Focus-field Drive, and THX Certification (pending), all point to similar or better picture quality as last year. This, along with the other 3D plasmas, come with two pairs of glasses, which is a massive increase over how many they included last year (0). Three sizes in the line 55-, 60-, and 65-inches.
Models:
TC-P55VT60
TC-P60VT60
TC-P65VT60
ST60 Plasma
Al
loved last year's 55ST50
, giving it a Certified & Recommended award, and saying, "...you get a lot for your money with Panasonic's P55ST50: a big 55-inch screen, 3D capability, loads of streaming options, built-in Wi-Fi." This year's ST60 seems to carry on that trend with lots of features and an Infinite Black Pro panel. Four sizes, 50-, 55-, 60-, and 65-inches.
Models:
TC-P50ST60
TC-P55ST60
TC-P60ST60
TC-P65ST60
S60 Plasma
The S60 is the high-end of Panasonic's 2D plasma offerings. Since there's no "U" Series like there was last year, it's safe to assume this is the replacement. All are 1080p and have built-in Wi-Fi, but don't have Panasonic's full VIERA Connect Internet portal like the more expensive TVs in the line. Instead, they have Online Movies, a truncated version. Five sizes, starting from an interesting (and rare) 1080p 42-inch, all the way up to a 65-inch.
Models:
TC-P42S60
TC-P50S60
TC-P55S60
TC-P60S60
TC-P65S60
X60 Plasma
At the low end of the plasma line are two 720 plasmas, with few features. The 50-inch X5 from 2012 was around $600, so I'd expect the prices for this line to be similar. Two sizes, a 42 and a 50.
Models:
TC-P42X60
TC-P50X60
LED LCD
Lots of LCDs for 2013 too, and some are huge. All are shipping this spring. Once again, starting at the top:
WT60 LED LCD
I was
not a fan of last year's WT50
, so hopefully picture quality was the first thing on the to-do list for the WT60. There are two sizes, a 47- and 55-inch. Both are 3D, and have IPS-based panels, so expect near-perfect off-axis performance. They're saying the WT60 has local dimming, and that would be very exciting indeed, as there are very few local dimming LED LCDs on the market (last year, there were only 3: one each from ELITE/Sharp, Sony, and LG). It has voice control, a built-in camera, and all the usual features in a high-end TV.
Models:
TC-L47WT60
TC-L55WT60
DT60 LED LCD
It seems the DT60 is being positioned as the techy TV, with a "Dual Core with Hexa Processing Engine," Viera Connect, voice interaction/recognition, and Swipe and Share 2.0. SnS2 (my abbreviation), is on most of the mid- and high-end plasma and LCDs from Panasonic. It's a simplified way of getting pictures from your phone or TV to the other. Kind of like Apple's AirPlay, but with images only. Two sizes, both 3D, a 55 and a 60.
Models:
TC-L55DT60
TC-L60DT60
ET60 LED LCD
The ET60 Series are the entry-level 3D LCDs. VIERA Connect, SnS2, backlight scanning, and so on. Two sizes, a 50 and a 55, and both are 3D and feature IPS-based panels.
Models:
TC-L50ET60
TC-L55ET60
E60 LED LCD
The E60 Series is really interesting, as there's a 65-inch model, which is the largest LCD Panasonic sells. Though the model name implies it's 2D only (there's no "T" which is Panasonic's code for 3D), the press release says all the models are 3D. Could be a typo, or they could be 3D without a T. They don't seem to have IPS panels like the ET60, so that could be one differentiator. All the other regular features are here. Four sizes, starting with 42.
Models:
TC-L42E60
TC-L50E60
TC-L58E60
TC-L65E60
EM60 LED LCD
Not a lot of features with the 1080p EM60 models, mostly just a slim bezel.
Models:
TC-L39EM60
TC-L50EM60
XM6 LED LCD
Just one TV in the XM6 line, a 720p 32-inch with a slim bezel.
Model:
TC-L32XM6
B6 LED LCD
At the bottom end of the LCD line, there are the three TVs in the B6 Series. The 32-inch model is 720p, while the 39- and 50-inchers are 1080p.
Models:
TC-L32B6
TC-L39B6
TC-L50B6
LATEST VIDEO