CES 2012: Gibson and Onkyo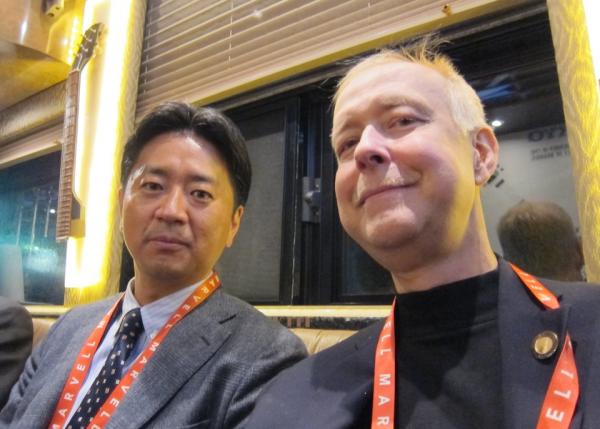 It may not have involved OLED, but one of the biggest consumer electronics announcements of the month - Gibson Guitar Corporation's acquisition of a majority stake in Onkyo USA and a large chunk of Onkyo Corporation proper, with the establishment of a Hong Kong-based R&D-oriented joint venture - happened last week rather than at CES proper, but today the CEOs of Gibson and Onkyo, Henry Juszkiewicz and Munenori Otsuki took some time to clarify the finer points of the partnership, which left many observers' scratching their heads. Rather than holding a press conference in one of the maze-like structures in which most of us have been spending our time this week, Juszkiewicz and Otsuki invited a few reporters to meet them on the Gibson bus, a fully blinged-out luxury liner styled in the tradition of Nashville's golden age.
Both companies have already issued broad statements on what they're getting out of the deal (Onkyo's getting Gibson's marketing muscle behind the introduction of new product ranges into the US market; Gibson's getting technology and high-end audio expertise), but Juszkiewicz' official statement last week was quite general (the arrangement would bring "the same exceptional experience artists demand in the studio to a larger consumer base" used to compressed music and earbuds), and much along the lines of what we've heard from Jimmy Iovine and Dr. Dre. An admirable goal, for sure, but a very difficult one to pin down.
Today the two men elaborated on the meaning of the new partnership, and dropped a few hints (it was obviously too early for specifics) about what kind of real-world impact we might see on future products and services from Onkyo and Gibson's other brands.
First and foremost, both Juszkiewicz and Otsuki emphasized that the deal was a partnership - as part of Gibson's Pro Audio division, Onkyo will be an independent brand; the Gibson connection would help bring Onkyo products to a wider market in the U.S., and help the company leverage its expertise to break into the burgeoning headphone market. Not a surprise (and we'll certainly want to get a listen to the product that eventually results), though no timeline was given. Gibson-affiliated artists and product endorsers would also be made available to market Onkyo products.
Gibson, in return, would be able to capitalize on Onkyo's substantial research experience. The joint research venture (described by Juszkiewicz as a "skunk works") would, for instance, let Gibson source Onkyo drivers (the company makes a wide variety of speakers, few of which are seen in the US aside from its HTiBs) to its other Pro Audio division brands, such as KRK, Stanton, and Cerwin-Vega. It'd also let the companies collaborate on products and projects covering ground that neither company has traveled on its own.
Perhaps the most interesting of these - and something that would both make good on the promise to free listeners from "compressed music" and be a serious game-changer - was a potential collaboration on a 24/96 online service (described by bothe Juszkiewicz and Otsuki as a "streaming" service), based on Onkyo's Japan-only e-onkyo Music high-rez download shop (which operates along similar lines to HDtracks).
Juszkiewicz expressed some frustration that no major US player had yet stepped up to give high-rez content the required push to make it mainstream; in his opinion the potential is there to make high-resolution download a successful format, but sufficient weight needs to be thrown behind the idea - he'd like to see 24/96 files not suffere the slow, sad, death of SACD. Given Onkyo's experience in the field and Otsuki's and Juszkiewicz' obvious enthusiasm (and the latter's willingness to draw on his company's relationships with artists), were the two companies to put serious investment behind the idea perhaps (and hopefully) it could generate enough momentum to affect mainstream listeners.
Also intriguing was Otsuki's positioning of the service within a collaboration on a cross-device, multiple-screen content deployment strategy (definitely a theme of this year's CES). Onkyo, says its CEO, has already been working on high-resolution audio drivers for Android, and (in keeping with another CES theme - Android as an OS for pretty much everything, even if not for phones in the long run) is thinking about the OS not just as a platform for smartphone and tablet apps, but for future AVRs.
Whatever ends up emerging from the skunk works, this is certainly a collaboration to watch closely over the coming quarters.