CES 2011: Sony Announces New Products in Grand Fashion
Emerging from beneath a gigantic video screen stretching about 100 feet across, Sony chairman/president/CEO Sir Howard Stringer appeared in the car from the upcoming movie The Green Hornet with the movie's stars Seth Rogen and Jay Chow. It was just the start of what will almost surely be the splashiest event at this year's CES-maybe the splashiest CES event ever.
Some of Sony's announcements lived up to the flash - most notably its announcement that it has reached a deal with Time Warner Cable to make TWC's complete program offerings available on Internet-enabled Sony TVs. It'll all be "live and on demand," delivering the selection and big-name quality of cable networks with the flexibility and immediacy of Internet-based services such as Netflix streaming.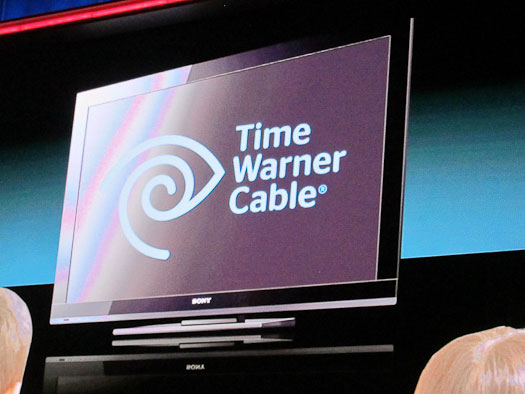 "Sony is going to become a leading global provider of networked entertainment," Stringer said. "By March of this year, there will be 50 million TVs that are Internet-enabled using Sony technology, through a Sony Blu-ray Disc player, a Playstation 3, or the TV's own Internet connectivity."

To supply content to those TVs, Sony is launching Qriocity, a video-on-demand and music-on-demand service accessible through Sony Internet-enabled TVs. According to Sony, all of the major movie studios have agreed to provide content to Qriocity, and more than 6 million songs will be available at launch.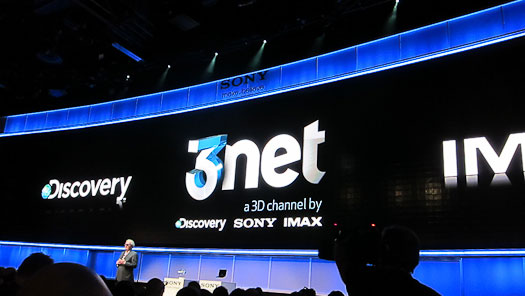 The company also pushed 3D heavily, announcing new products and services. In terms of services, there's 3net, a 3D TV network that's a joint venture between Sony, Discovery Network, and IMAX.

While the company plans many new 3D TVs and Blu-ray Disc players for 2011, its most interesting introductions were two 3D camcorders. One is claimed by Sony to be the first 3D camcorder with double full HD for the sharpest picture and the deepest 3D effect. This model is expected to ship in April for about $1,500. Too rich for your blood? No problem-Sony also announced the 3D Bloggie, a Flip-style camcorder that shoots 3D video and photos in high-def for about $250.
Most exciting, though, was the presentation by Sony's Hiroshi Yoshioka of prototype products that are part of the company's "3D product roadmap." The first and best was a headset reminiscent of that worn by the Cyclops character in the X-Men movies. With a separate screen for each eye plus built-in headphones, the headset is said to deliver a truly immersive (and isolated) 3D experience. Others included a clamshell-style portable Blu-ray Disc player that delivers 3D without special glasses, and three new TVs that deliver 3D without glasses. Shockingly, one of these TVs is a 24.5-inch OLED model-a technology some pundits assumed Sony was giving up on after it pulled the plug on its original XEL-11 OLED set last year.
LATEST VIDEO