CES 2011: LG TVs Get Smart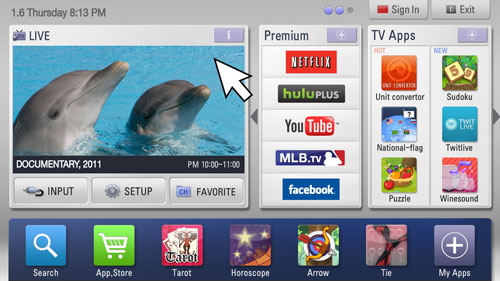 Smart TV might seem like an oxymoron, but if LG has its way, not only will your next Internet-connected TV be smart, so will your oven, washing machine, etc.

The key thing being pitched at the company's crowded early morning press conference was a Home Dashboard GUI that will grace the screens of forthcoming LG Smart TVs - a sort of home page that serves as a streamlined jumping-off point to access live TV, streamed content from Netflix, Vudu, Hulu Plus, or Amazon VOD, and movies/ photos/music stored on a networked computer or connected USB drive via the set's Smart Share feature. LG Smart TVs also provide a built-in browser to surf the Web directly. One more thing you'll be able to access from the Home Dashboard is LG's TV Apps, a 100-plus and growing collection of entertainment, news, and reference applications.

How will you interact with your LG Smart TV? Using the company's new Magic Motion remote control, of course, a motion-controlled, point-and-click wand that's bundled with the new sets. All new LG Smart TVs and other smart devices will also come with either built-in Wi-Fi or a wireless adapter, so getting connected right out of the box won't be a problem.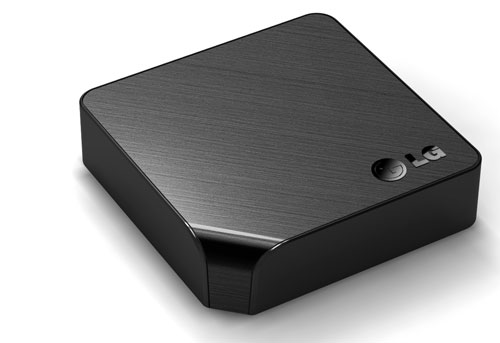 LG's plans encompass legacy sets, too, which can receive a brain boost using the company's SmartTV Upgrader (ST600), an external box with built-in Wi-Fi that hooks up to your current TV via an HDMI connection.

LG also made a number of specific new TV model announcements, including Cinema 3D sets that use passive glasses. According to the company, these models, which will ship this spring, come bundled with 4 sets of glasses and deliver a wide viewing angle and brighter-than-average 3D images via a Light Boost screen filter. Coming later this year are LG's Nano Full LED 3D-ready sets, which it says will be the first THX-certified 3D LED TVs. Nano sets sport a full-array LED backlight with local dimming and a proprietary thin-film light dispersion layer that's said to improve backlight uniformity. They are also less than 1 inch deep and feature an ultra-slim bezel. Screen sizes extend all the way up to 72 inches for the flagship Infinia LZ9700 model.
Another part of the press conference was devoted to Wi-Fi-enabled smart appliances that do things like download recipes and send you a text message when dinner's ready. I can't even begin to fathom the implications of that.
LATEST VIDEO