CES 2011: Active Vs. Passive 3DTVs Battle it Out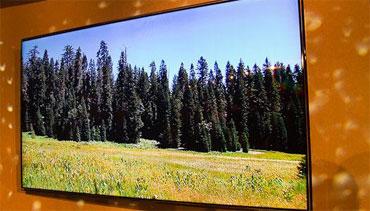 LG and VIZIO announced today many new models with Passive 3D. This contrasts with Panasonic, Samsung, Sony, and Sharp who all announced new Active 3D models.

The main differences are that active uses comparatively heavy and expensive LCD shutter glasses. The advantage to this method is that you can have full HD resolutions with minimal modifications to the underlying television. The disadvantages are that potential for flicker, crosstalk, and the aforementioned glasses.


LG and VIZIO's passive models use additional polarization built into the TVs. This offloads some of the technology needed to create 3D to the television, making the glasses lighter and cheaper. The advantages to this method are a brighter picture, no flicker, little to no crosstalk, and the cheaper, lighter glasses. The disadvantages is that the current implementation of the technology means each eye is only getting 1,920 x 540 resolution. Each line on the TV is polarized to an eye, so all the odd lines go to the left eye, all the even lines to the right. While not ideal, the situation gets worse when watching 3D from a source using the side-by-side method (like ESPN3D). This method has a maximum resolution of 960 x 1,080, which on a passive TV is then reduced further to 960 x 540 per eye.

How noticeable is this? We'll keep and eye out during the show, and of course we'll be reviewing models in the near future.

LG
LG calls their passive line of 3DTVs "Cinema 3D," a play on the fact that most theaters use passive technology for their 3D. Each set will come with 4 pairs of 3D glasses. The "Film Patterned Retarder" is the additional polarization. The INFINIA LW6500 and LW5600 are the two Cinema 3D model lines, and there will be sizes from 47-inches to 65-inches.

There will still be active 3D models this year, including the 72-inch LZ9700 which has LED backlighting with local dimming, is 400 Hz, and features LG's new Magic Motion remote, which functions pretty much exactly like the Wii Remote. Also, there will be 50 and 60 inch 3D plasmas in the PZ950, PZ750, and PZ550 Series. For the next size down, there will be 42 and 50-inch models in the PW250 Series.

There was no pricing or availability dates.

LG (like so many other manufacturers) is also showing an auto-stereoscopic (glasses-free 3D) prototypes at the booth.

Samsung

No passive for Samsung, instead they hyped their new ultra-thin (0.2") bezels for plasma and LCD, and the corresponding increase in screen size for the same footprint. So 42" are now 43", 50" is now 51" and so on.

The D8000 Series 3D plasmas have a claimed 3,000,000:1 contrast ratio, while the D6500 3D plasmas have Samsung's ToC (Touch of Color) bezels.

On the LED LCD side, there will be models in the D8000, D7000, and D6400 Series. The D8000 Series has "Micro Dimming" for better contrast ratios. The D7000 Series has backlight scanning for less motion blur. The D6400 boasts increased brightness with lower power consumption and 120 Hz.

Specific sizes and prices were not available.

They also showed off new active 3D glasses that were only 1oz and were rather stylish (comparatively…).

Sharp
Sharp announced a 70" LE935 LED, 3D and 240 Hz. The LE835 Series Edge-Lit LED 3D LCDs are also 240 Hz and will come in 40, 46, 52, and 60-inch screen sizes. All models are based on Sharp's Gen 10 glass and have their yellow-pixel Quattron technology.

The LE835 Series will be available in February. Again, no pricing.

Sony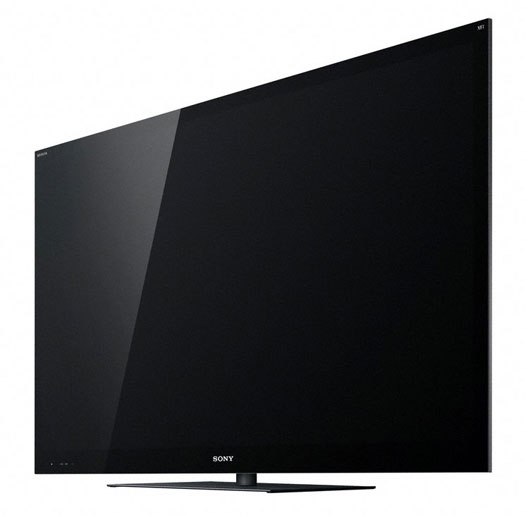 Sony has 16 new 3D models, all based on active shutter technology. Advancements over last year are a claimed quicker response time, 5:5 pulldown for better movie playback, and built-in emitters for the glasses.

The EX720-Series are edge-lit LEDs, available in February, with a 55-inch (KDL-55EX720), a 46-inch (KDL-46EX720), a 40-Inch (KDL-40EX720), and a 32-inch (KDL-32EX720). A 55-inch model, the KDL, 55EX720 will be available in April. All are Motion Flow XR 240 models.

The HX729-Series are available in May, and have Dynamic Edge LED lighting. All are Motion Flow XD 480 and have built-in 802.11n. There's a 65-inch (KDL-65HX729), a 55-inch (KDL-55HX729), and a 46-inch (KDL-46HX729).

The NX720-Series will also be available in May, and has a "sleek, monolithic design," OptiContrast panel, 802.11n, and Motion Flow XD 240. No word yet if it's full of stars. There will be a 60-inch (KDL-60NX720), a 55-inch (KDL-55NX720), and a 46-inch (KDL-46NX720).

The HX820-Series has Dynamic Edge lighting, the same "monolithic" design and panel as the NX720 series, but adds MotionFlow XR 480. It also has 802.11n wireless, and will come in 55-inch (KDL-55HX820) and 46-inch (KDL-46HX820) models will be available in May.

At the top of the line is the XBR-HX929 Series, which have local dimming LED backlighting, the "monolithic" and panel of the 720 and 729 Series, and Motion Flow XR 960. There will be a 65-inch (XBR-65HX292), which will be available in August, and a 55-inch (XBR-55HX929) and 46-inch (XBR-46HX929), which don't have availability dates yet.

No pricing.

Panasonic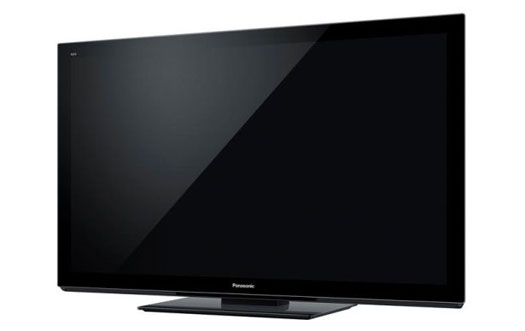 In addition to a whole line of 3D camcorders and cameras, Panasonic announced new 3DTVs and the opening of the 3D Innovation Center in Hollywood (look for an in-depth tour soon).

The ST30 Series is their entry-level 3D plasmas, and will be available in 42, 46, 50, 55, 60, and 65-inch models.
TC-P65ST30
TC-P60ST30
TC-P55ST30
TC-P50ST30
TC-P46ST30
TC-P42ST30

The next step up GT30 series has four models, a 50, 55, 60 and 65-inch. All are THX Certified.
TC-P65GT30
TC-P60GT30
TC-P55GT30
TC-P50GT30

At the top of the pile is the VT30 Series, of which there are two models, a 55 and a 65. These are THX Certified, have a single sheet glass design, have ISF Calibrator hookup and all the bells and whistles.
TC-P65VT30
TC-P55VT30
New this year is 3D in their LED LCD line, a 32-inch and 37-inch: TC-L32DT30 and TC-L37DT30 respectively. And…wait for it… no pricing or availability.

VIZIO
Vizio didn't have a press conference, but from a press release on their website, they will have passive 3D models, called Theater 3D, available in their top of the line XVT Series, some models in their mid-range M Series, and some in their entry level E Series. No further info about specific models at post time.

Perhaps most intriguing are two "Cinema HDTV" models that have a native 21:9 aspect ratio (2.37:1). In addition to passive 3D, these models can display Cinemascope wide-widescreen images without black bars.
LATEST VIDEO