CES 2010: Four overlooked tech trends from CES
Websites and cable TV channels are packed with news from the Consumer Electronics Show in Las Vegas. But with thousands of exhibitors spread out through several convention halls and hotels, there are always lots of stories that go overlooked. Here are four we found especially exciting:
Energy-saving innovations: The electronics industry has come up with some entirely new products that help save energy without sacrificing convenience. One of our favorite examples is the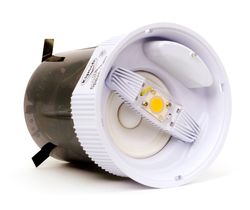 A wireless transmitter sends sound from an MP3 player, a TV, etc., to the speakers, and a remote dims the light and controls the sound. Klipsch says the LightSpeaker's efficient LED consumes only 10 watts but puts out the same light as a 65-watt incandescent bulb. A package with two LightSpeakers, a transmitter, and a remote costs $599.
Another great green product is the
Ciao, CDs: More and more consumers are using less and less "physical media" (i.e., CDs and DVDs). Instead, they're streaming their audio and video entertainment from the Internet, through home networks, or from iPods and smartphones. Many new products at CES were designed specifically to suit these trends—they don't even have CD slots. One that caught our eyes was the Pure Sensia (pictured at left), a desktop audio/video system that looks almost like a big Easter egg. Each end of the Sensia has a speaker, and touchscreen fills the middle. The $349 Sensia plays any of thousands of Internet radio stations, and also streams content from computers and hard drives that are connected to your home network. The only concession to old-fashioned media is the built-in FM tuner.
Alpine and Sony took the bold step of launching new auto sound head units that have no CD playback capability. You get your music from a docked iPhone or iPod, or from the units' AM/FM tuners.
Pencil-thin TV: TVs are rightly getting lots of attention at this year's CES, but our favorite new models—the Samsung 9000 series—got a little lost in all the hubbub about 3-D and Internet connectivity. According to Samsung, the 9000 series TVs measure only 0.3 inches thick (photo to the right courtesy of Engadget), which is about the same thickness as a pencil. An ingenious stand (which doubles as a wall mount) provides all the connections. Not only is this slim, silvery set incredibly sexy, it also includes a touchscreen remote control/video screen that lets you keep tabs on the ball game while you're watching the latest DVD. The sets are 3-D capable, so when the new 3-D Blu-ray Disc players come out later this year, you'll be ready.
—Brent Butterworth