CES 2010: Best new speaker of the show?
Hundreds of new speakers saw their debut at this year's Consumer Electronics Show. No one could possibly hear them all in the four days of the show, especially when you consider that they were scattered among numerous venues. But I heard a lot of them, and I can state with complete confidence that the best I new speaker I heard at CES was Magico's $54,000-per-pair Q5.
If you just snorted coffee through your nose when you read that price, I apologize. But if you think the Q5's just some overpriced audiophile absurdity, you're dead wrong. A cutaway model of the Q5 on display in Magico's room in the Venetian Hotel showed why you might consider buying a pair of Q5s instead of a new Lexus.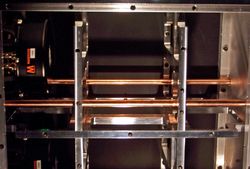 Magico assembles the Q5 enclosure from more than 50 individual parts machined out of aluminum or brass—including the panels that make up the cabinet. (You can see the internal guts in the photo at right.) Total weight is 387 pounds per speaker. The enclosure's extraordinary mass essentially eliminates extraneous vibrations that might diminish audio fidelity; all you're hearing is the sound of the three 9-inch woofers, the 6-inch midrange driver, and the 1-inch beryllium-dome tweeter. According to Magico, assembly of a single pair of Q5s takes almost one full week.
The pair of Q5s in Magico's room delivered perhaps the best reproduction of a grand piano I've ever heard. Sadly, I doubt I'll get an extended in-home audition.
—Brent Butterworth
LATEST VIDEO