CES 2009: Toshiba Regza line-up reboot
With no mention whatsoever of the whole HD-DVD fiasco which dominated last year's press conference, Toshiba pressed on with several announcements of interest.
As technology improves and better features continue to find their way ported down to lower priced models, manufacturers need to continue developing bleeding-edge technology to convince consumers to step up and part with more of their dollars for the higher-end sets. Toshiba is incorporating some unique features to its highest-end, Regza, models to do just that. Not surprisingly, the most exciting news of Toshiba's event related to Regza announcements. 
Generally, manufacturers add just a few new features to a set, but Toshiba is essentially rebooting the entire Regza line-up with tons of new features and a full cosmetic redesign. Among the cool step up features, all Regza models will feature Instaport for faster HDMI switching, which should eliminate the often lengthy HDCP handshake that occurs when switching sources.
Additionally, all Regza sets will feature a new cosmetic design that Toshiba calls "Deep Lagoon" that creates a sense of depth to the frame, based on the concept of a beach disappearing into clear, ocean waters.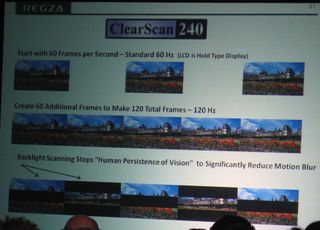 The ZV and SV series will feature ClearScan 240, which uses 120-Hertz scanning along with Toshiba's new Backlight Scanning technologity to create smoother, less blurred moving images.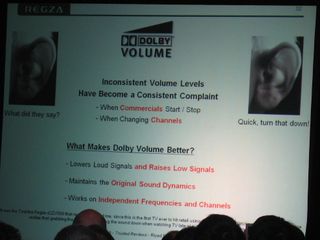 The ZV and SV series are also the first TVs to offer Dolby Volume, which addresses one of the biggest consumer complaints by reducing the wild volume swings and providing more consistent volume levels between channels.
The flagship, SV series (shown in the opening image) will feature FocaLight LED backlighting with local dimming to produce the blackest blacks without sacrificing peak whites.
While pricing wasn't available, here is the entire Regza line-up with release dates:
REGZA XV645 Series
40XV645U (May 2009)
46XV645U (May 2009)
52XV645U (May 2009)
REGZA ZV650 Series
42ZV650U (April 2009)
47ZV650U (April 2009)
52ZV650U (April 2009)
REGZA SV670 Series
46SV670U (May 2009)
55SV670U (May 2009)
--John Sciacca
LATEST VIDEO