CES 2009: The Return of The Sharper Image
Today marks the return of your favorite gadget guys, The Sharper Image. They were at CES showing off the products that will be showing up shortly in stores near you. Their retail shops are long gone, but their products will be back - in catalogs, magazine, and retailers such as Macy's.  Not your typical locations.
What categories of products? Home audio, electronics, home security, health, travel - typical fun stuff. At CES, they're showcasing iPod-compatible stereo systems, wireless iPod speakers, and other "bedside" devices.
The products won't be available until . . .
third quarter of 2009.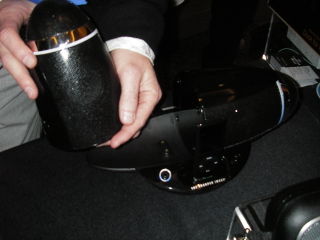 I checked out the EC-W145 Wireless Audio System, with a range of 150 feet. It's combined with an iPod dock and rechargeable battery to run the speakers for up to 5 hours.
Perhaps more interesting than what they're showing is who The Sharper Image actually is. After folding as we knew it, it's now a licensing company owned by a joint venture of three companies, and the Sharper Image Products (SI Products) is a company started by HoMedics, a company with a history in at-home massagers.
Interesting re-use of the name. Let's hope the products live up to the history. --Leslie Shapiro
LATEST VIDEO
WHERE TECHNOLOGY BECOMES ENTERTAINMENT