CES 2009: 8 Products Worth Checking Out So Far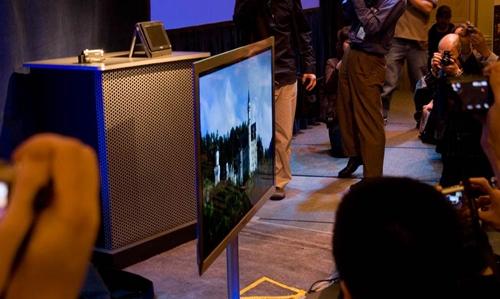 The show floor hasn't even opened yet, but the flood of stuff we want to get our hands on has already started. Last year's CES was kind of a let down when it came to getting new products we would actually get our hands on during the year. If last night's preview was any indication, we might leave this year's show with a longer wish list.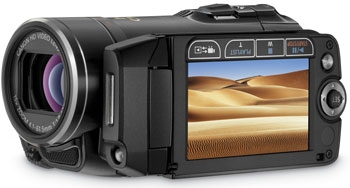 Canon Vixia HF20 Little video cameras are getting good. Almost scary good. Canon's new digital video camera continues the trend of shrinking bodies, but cranks up the feature set to an impressive level. Shooting options are plentiful, including a 24p mode for the film look. The bitrate maxes out at an excellent 24 Mbps (up from 17 in the previous generation) when shooting in fully HD. Footage gets stored on an 32GB internal solid state drive, or you can add more using an HCSD card. The storage crown, though, goes to Samsung and their HMX-H106 which packs a 64GB SSD and a body like a sexy thermos.
Sennheiser HD 800 Headphones At 56 mm, the transducer in Sennheiser's new high-end cans is the biggest you'll find in a dynamic headphone. They claim all of that surface area, combined with the ring-shaped diaphragm, make for untouchable sound quality. I didn't actually get a chance to listen to them on the show floor (not that it would have been particularly useful since these aren't exactly walking-around phones at $1,400) but I can at least say that they were comfortable, even if they are kind of huge.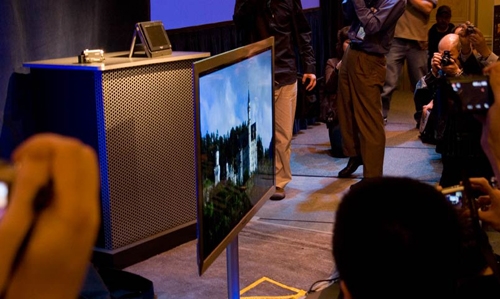 Panasonic NeoPDP: The World's Thinnest Plasma At just 1/3 of an inch thick, this Panny panel officially wrestled the title of "thinnest plasma" away from Pioneer. Of course, we haven't had the opportunity to see the display in a room in which the lighting could be described as anything buy totally freakin' horrible, but first impressions suggest that it will almost certainly stand up to the standards of Panasonic's other panels. Plus, it comes with all of those bragging rights. We should have some video of this beauty up shortly, but the above photo is borrowed from Gizmodo.
Lenovo w700ds The cat has been out of the bag on Lenovo's dual-screen monster for a few days now, but seeing it in person is really something else. The 17-inch screen looks great, but the 10.6-inch supplementary screen really seems like something we could use. It feels more durable than you would expect, too. That's a good thing considering that with its Core 2 Quad processors and every other bell and whistle you can think of, it comes at a premium.
LATEST VIDEO