Cerwin-Vega CVHD 5.1 Home Theater Speaker System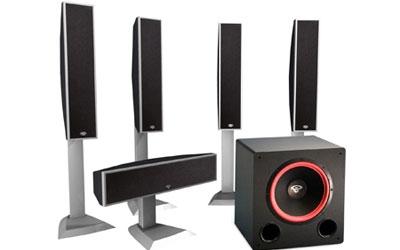 In a world of here-today, gone-tomorrow companies and their erstwhile products, there is something reassuring about staying power. Even in our fast-lane culture, qualities like longevity and heritage must count for something. If a company has been selling products such as, say, loudspeakers, for the better part of a lifetime, then surely it must be doing something right.
Cerwin-Vega was founded in 1954 by Gene Czerwinski, then a young aerospace engineer, with a design philosophy based on high performance, durability, and value. The company became a consumer favorite and also supplied now-legendary loudspeakers to manufacturers such as Fender, Acoustic, Sunn, and Vox. Its subwoofers were literally earthshaking in many movie theater systems, and C-V even picked up an Academy Award for Special Technical Achievement. In the pro market, C-V supplied equipment for The Rolling Stones, David Bowie, Peter Frampton, Emerson Lake and Palmer, and others. Its entry into the car audio market was revolutionary, and bass on wheels was never the same again.
Now the company is re-energizing its brand in the home market with products such as the Cerwin-Vega CVHD 5.1 home theater speaker system, a contemporary 5.1 surround setup. At $1,100, this speaker system has a lot of competition. So, as I pulled the speakers from the box, I wondered: Can an old dog really learn new tricks? And can there still be life left in 53-year-old values?
LATEST VIDEO